Page 103 - Fun and Function Catalog 2018
P. 103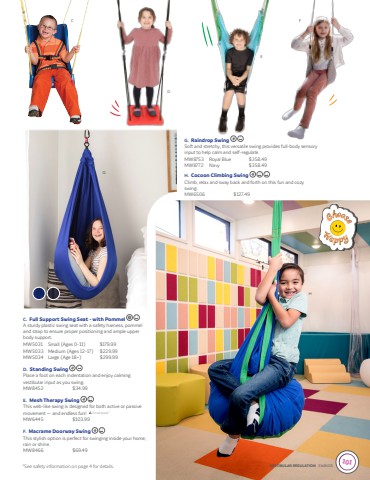 TACTILE REGULATION | VIBRATION
101
 A

Using vibration helps an individual understand where their body is in space, which assists in coordination and balance.
Vibration can also calm kids who need more sensory feedback, and help train hypersensitive kids to tolerate more sensations.
   These adorable kid-
friendly bugs provide
a vigorous massage.
They're both playful
and therapeutic."
AVIVA WEISS, MS, OTR/L AT FUN AND FUNCTION // Pet Massager
A Pet Massager
Reduce tension and wake up tired muscles. These adorable kid-friendly bugs provide a vigorous massage. Helps calm and organize, and get ready to focus and learn. Power off for a rolling massage. Requires AA batteries (not included). 4"L x 3"H. Age 3+
B Vibrating Bee
Bzzzzz! Our lovable bee helps children calm and foo- cus. Pull the string to start the vibration, which has a stimulating effect for under-responsive children and a soothing effect for the over-responsive. Feel the red nose, stretchy black antennae and smooth gold wings for tactile feedback. Friendly face makes for a great companion during therapy sessions, and a helpful prop during speech language activities.
2 oz. 10"L x 4"W x 4"D. Plush polyester. Gold and brown with red, black and green accents. Surface
D Sensory Vibrating Neck Pillow
Need to wake up the senses? Three levels of vibration provide proprioceptive input for sensory integration. Place around shoulders and snap the ends together for soothing vibration around your neck. Unsnap the ends and lay the pillow across your hands or feet. Requires 2 AA batteries (not included). 9 oz. 22"L x 11" Diameter. Spandex with micro-pellet filling. Blue. Surface wash. Age 4+
CF6703 $59.99
E Sensory Vibrating Lap Pad
Relax on-the-go with soothing sensory support. Vibrations and calming weight provide input to sensory seekers and build tolerance in sensory avoiders. Irresistibly soft with bumps for tactile exploration. Features pocket to stash fidgets or tuck your hands inside. Place across lap, back or stomach to help calm and focus. Requires 2 AA batteries (not included). 4.5 lbs. 13"L x 9"W. Pocket is 6"L x 6"W. Minky fabric. Green. Machine washa- ble cover. Age 3+
CF6754 $69.99
    wash. Age 3+ SP6128 $29.99
Small parts*
      Small parts* TC1684 Lady Buzz
$9.99 $9.99
C Vibrating Sensory Snail
The perfect pet companion, our Vibrating Sensory Snail is soft and multi-textured. Pull the string to turn on the snail's vibrating belly. The soothing vibration helps to stimulate under-responsive kids and calm the over-responsive. Provides tactile feed- back with a variety of textures: stretchy blue anten- nae, curly red neck and fuzzy green back. Bring the snail to therapy sessions, speech language activities and to ease transitions. 5" x 5". Polyester. Surface wash. Age 3+ Small parts*
SP6154 $26.99
          TC3601 Tickles the Turtle
1.800.231.6329 FunandFunction.com
*See safety information on inside back cover for details.