Page 122 - Fun and Function Catalog 2018
P. 122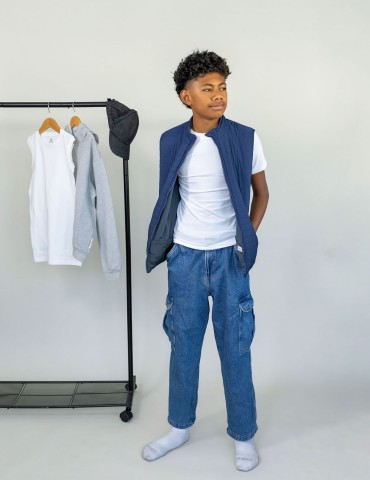 120 VESTIBULAR REGULATION | SWINGS

A
Canvas Seat Swing
Canvas Sling Swing
B
Meet your go-to swing for sensory
integration therapy. Supports the entire
body with a giant hug!
ILANA DANNEMAN, PHYSICAL THERAPIST AND PRODUCT DEVELOPER AT FUN AND FUNCTION
Canvas Sling Swing
A Canvas Swings
Canvas material wraps around and hugs the body, creating a relaxing hangout spot for sitting or reclining. Seat Swing is a hammock-style swing that supports the bottom. Sling Swing is generously sized to support the en- tire body in a fully reclining position. Use a set of Height Adjustable Swing Chain Hardware with carabiners (all sold separately). Holds up to 200 lbs. Cotton canvas. Blue and green stripes. Surface wash. Age 3+
B
     CF6283 Canvas Sling Swing CF6511 Canvas Seat Swing
62"L x 51"W 42"H
$144.99 $89.99
C Mesh Therapy Swing
Ultra-light and ultra-durable, this web-like swing is designed for both active or passive movement -- and endless fun. Sit in the swing or lie all the way down and glide away. Breathable mesh provides a smooth and comfort- able ride. Suspend from a doorway bar using 2 carabiners. Alternatively, suspend from ceiling with a set of Height Adjustable Swing Chain Hardware and 2 carabiners (all sold separately). Holds up to 200 lbs. 45"H (to top of hooks) x 60"L. Polyester mesh and nylon. Blue and green. Surface wash. Age 3+
MW6445 $79.99
    B Air-LiteTM Tire Swing
The indoor version of everyone's favorite playground activity! Climb, swing and spin on our giant donut-shaped swing, alone or with friends. Challeng- es balance, motor planning and sensory integration skills as kids play. Hang from single point or 2-point suspension. Not for use in doorways. Inflates and deflates quickly for easy storage and travel (high-volume pump sold separately). 1 year warranty, void if punctured by sharp objects or exposed to extreme temperatures. 4 lbs. Holds 1-3 kids, up to 150 lbs. 48" outer di- ameter, 24" inner diameter, 11" thick. 56"L. Latex-free vinyl and nylon. Blue. Wipe clean. Age 4+
MW6168 $229.99
1.800.231.6329 FunandFunction.com
*See safety information on inside back cover for details.
 Hardware not included unless otherwise noted. Professional installation recommended.
BE SAFE
Inspect equipment regularly for wear and tear or improper fit and replace as needed. Extend protective flooring and maintain a minimum clearance of 6' around the perimeter of swings. Use with adult supervision.