Page 123 - Fun and Function Catalog 2018
P. 123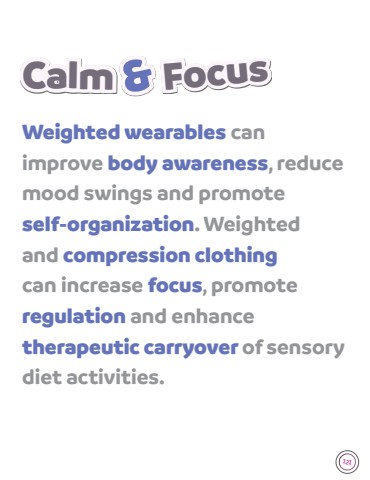 C
D
VESTIBULAR REGULATION | SWINGS 121
 D Full Support Swing Seat - With Pommel
A sturdy plastic swing seat with safety harness, pommel and strap to ensure proper positioning and ample upper body support. Enables children with special needs to enjoy swinging while helping improve body strength, balance reactions, motor planning and posture. Suitable for indoor or outdoor use. Holds up to 75 lbs. 20"L x 12"W x 9"D.

Big hit in my treatment room! Easy to hang and take down.
MICHELE // Air-LiteTM Tire Swing
E
MW5031 Small (Child) MW5033 Medium (Teen) MW5034 Large (Adult)
$104.99 $149.99 $269.99
       E SoftTacoSwing
This soft therapy swing provides full-body pressure and calming sensory input for over-stimulated kids and adults. By cradling you like a taco, it uses your own body weight to provide soothing pressure from head to toe. Press against the sides to enjoy a bit of heavy work as you swing. Swing on your back or stomach to support sensory modulation. Junior size fits kids up to 4.5' and holds up to 220 lbs. Adult size fits kids over 3.5' and holds up to 350 lbs. Durable rip-stop material removes easily for washing. Age 3+
VS4557 Junior 54"L $179.99 VS4558 Adult 72"L $219.99
      1.800.231.6329 FunandFunction.com
*See safety information on inside back cover for details.