Page 131 - Fun and Function Catalog 2018
P. 131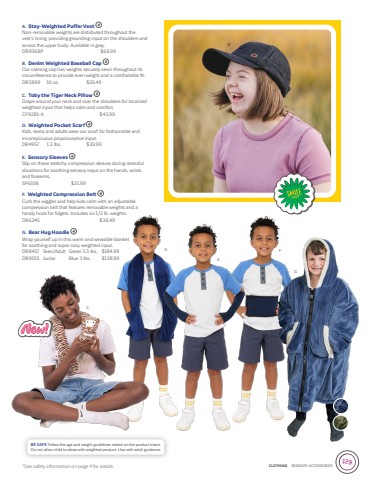 VESTIBULAR REGULATION | SWINGS 129
 F Portable Swing Frame
A lightweight frame you can easily move between rooms or even outdoors. Supports single and 4-point rope assembly swings. Easy assembly. For light swinging only. Holds up to 200 lbs. Weighs 35 lbs. 83''W x 70''D x 77''H. Sturdy galvanized steel tubing.
CF5933 $239.99
G
Currambera Hammock Chair Lounger sold separately, p. 127
G Romano Stand
This free-standing frame suspends single point therapy swings and hammock chairs. Sturdy enough to support multiple chil- dren or an adult and child. Large frame allows for a wide range of movement and provides a gentle ride. Weighs 71 lbs. Holds up to 353 lbs. 89"H x 63"W. Powder-coated steel.
CF6671 $349.99
     1.800.231.6329
FunandFunction.com
*See safety information on inside back cover for details.