Page 138 - Fun and Function Catalog 2018
P. 138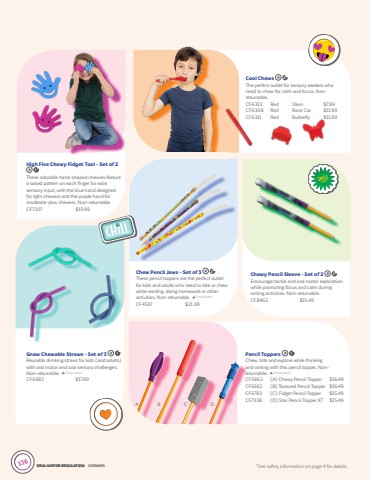 136 VESTIBULAR REGULATION | BALANCE
 A
     A The GYMBOX
The GYMBOX is a packable, storable and portable gym that helps children develop motor planning, balance training and coordination skills. Quickly unfolds to provide multiple activities. Features seesaws, ball pool, stairs, slope for climbing up and sliding down, crawling tunnel, balancing plane and multi-size cylinders. Each piece has hook-and-loop closures for easy combinations. Use components individually to strengthen specific skills such as balance and or use together to create motor play options, obstacle courses, group activities and much more. Fill ball pool with Crush-Resistant Balls (sold separately). Choose from two sizes, sold exclusively at Fun and Function. High quality polyurethane foam and PVC. Disinfects easily. Age 3 months+
Gymbox folds for storage and travel
D Build N Balance Set
Use your imagination to build balance and motor planning skills! The elee- ments can be combined to create your own course -- and endless opportuni- ties for therapeutic play. Adjust height from 4" to 9.5" for varying develop- mental needs. Includes 3 red pieces, 2 yellow pieces, and 5 planks. Holds up to 220 lbs. Planks measure 23"L x 5.25"W. Molded plastic. Age 3+
MW4867 $259.99
E Riverstones, Set of 6
Take a big step towards improved coordination, balance and motor skills! Inspired by stepping stones in a river, each triangular stone offers varying steepness. Arrange in different formations and jump between them. Rubber studs on base prevent slippage and protect floors. Helps build confidence in motor planning, jumping and judging distances. Includes 3 large stones 1'2"W x 3"H and 3 small stones 10"W x 2"H. Yellow, blue, red, green, or- ange, lilac. Holds up to 220 lbs. Ages 4-9
BA1998 $61.99
 EQ3837 32" Cube Ages 3 months-3 EQ3838 39" Cube Ages 3-8
$1,249.00 $1,799.00
B Foam Balance Beam
Work on your balance, strength and posture as you walk across the beam. Low-to-the-ground design with non-slip surface makes it great for kids with coordination challenges. Super light, durable and easy to transport -- and a fraction of the price of a standard therapeutic balance beam! 55"L x 6"W x 3"H. Foam. Color may vary. Age 3+
BA1647 $29.99
C Spot Markers
No more touching or poking neighbors! These colorful boundaries help children learn social skills and respect personal space. Bold colors provides visual guidance for children to gravitate to their place. Use Spot Markers
on chairs, tables, stepping stones, bases, targets and more. 8" Diameter. Durable polyvinyl. Red, blue, yellow, green, purple and orange. Surface wash. All ages
CF5878 $25.99
    1.800.231.6329
FunandFunction.com
*See safety information on inside back cover for details.