Page 144 - Fun and Function Catalog 2018
P. 144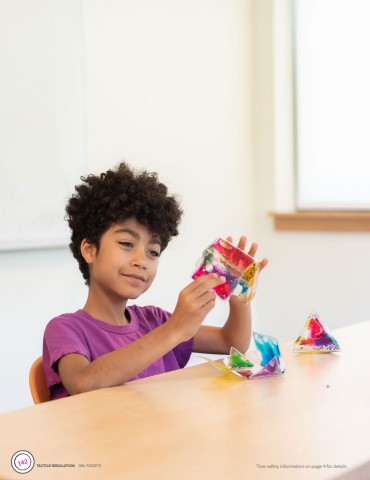 142 VESTIBULAR REGULATION | JUMP
     AB
 C
      Scooter Paddles-MW6153 available online at FunandFunction.com
A Crash Mat and Cover Set
The perfect place to land when jumping, tumbling or just lounging around! The soft, inviting foam
of this crash mat is ideal for sensory stimulation, balance activities and heavy work. The cover can be easily removed for machine wash. Larger size weighs 25 lbs. and holds up to 160 lbs. Smaller size weighs 20 lbs. and holds up to 100 lbs. Surface wash. Free of BPA and phthalates. Use with adult supervision. Age 3+
B Activity Guide: Take a Sensory
Motor Break (10 Pack)
Help tired, hyper or restless students get focused with our step-by-step strategies. Each page offers kids therapeutic activities to channel their energy and teach self-regulation skills. Great for class- rooms and clinics to pre-empt disruptive behavior by integrating the sensory motor activities. Ages 3-Teen
SP6589 $20.00
C Take a Motor Break!
Jump, stretch, bend, lift, scoot, roll and row! Round out your sensory diet and get moving with fun tools that encourage heavy work and physical ac- tivity. Ideal for school breaks, obstacle courses or individual use. Includes 16" Scooter with Handles (scooter may vary), set of 2 Scooter Paddles, Fold and Go Trampoline, Yoga Deck and 16" Therapy Ball. Age 5+ Small parts*
KT2404 $177.96 $167.99
         VS5720 3'L x 4W' x 25"D
VS5721 5'L x 5'W x 30"D
$169.99 $239.99
    1.800.231.6329 FunandFunction.com
*See safety information on inside back cover for details.