Page 155 - Fun and Function Catalog 2018
P. 155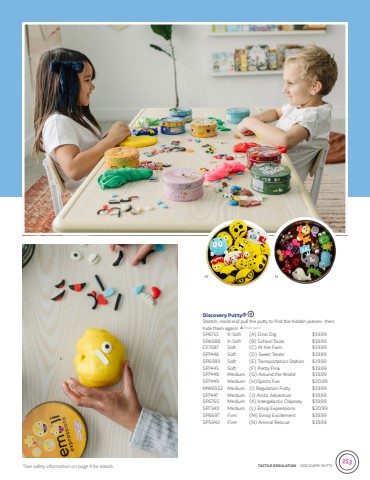 PROPRIOCEPTIVE REGULATION | WEIGHTED FRIENDS 153
   A Weighted Bear
A cuddly teddy with soothing weight! Teddy is a lovable companion who encourages sensory input, heavy work and tactile exploration. His friendly face helps kids feel comforted and secure. He's happy to keep you company during transitions, circle time, bedtime, therapy sessions or whenever focus and calm is needed. 2 lbs. 17"L. Polyester chenille with plastic pellets for weight. Brown. Surface wash. Age 3+ Small parts*
CF6276 $39.99
B Harry the Sensory Hedgehog Harry is a sensory companion with gentle weight, pockets and really cool hair! He enjoys keeping you company during circle time, homework, therapy sessions or car rides. His soft, shaggy hair encourages tactile exploration and makes for a comfy pillow. Tuck fidgets inside Harry's zippered pocket or add weights to use him as a lap pad. Pocket holds up to 10 lbs. of weight (sold separately). 1.8 lbs. 18"L x 9"H. Chenille and polyester. Yellow, red and black. Surface wash. Age 3+
SP6284 $54.99
C Weighted Armadillo
Soft, tactile and cuddly! Animal shape and ridges
are great for tactile exploration. 2 lbs. 7 oz. 12"L (from nose to tail) x 5.5"H x 4"W. Plush polyester filled with fine steel shots. Gray with black eyes and salmon-colored accents. Surface wash, air dry. Age 4+
Small parts* CF6801 $52.99
D Heavy Herbert
Children adore Herbert! Herbert listens well and helps children practice eye contact when they read or talk to him. Hug, lift or carry him for heavy work. Weighs 5 lbs. 18"L. Polyester filled with small stones. Blue and red with black and white accents. Surface wash, air dry.
AB
                    CD
    Small parts* CF4583 $59.99
    E Plush Pickle
Mr. Pickle is an adorable weighted friend and lap pad. His friendly face helps with speech and lan- guage therapy and his weight aids in regulation and sensory integration. A great companion for car trips, circle time or when kids just need a buddy. Mr. Pickle has a coil for fidgeting and a soft, engaging plush exterior. Use with In a Pickle card activity game (sold separately) for solo or group play. 3.625 lbs. 18"L with 6"L legs. Polyester. Green. Surface wash. All ages
CF6505 $45.99
New! F Leo the Weighted Lion Easy-to-disinfect surface makes Leo ideal for clinics and schools. 3 lbs. 15 oz. 11"L. Polyurethane and weighted with steel shots. Yellow, orange, white, black. Surface wash, air dry.
CF6832 $44.99
New! G Weighted Log Roll
Is it a log? No, it's a pillow! Gentle weight offers proo- prioceptive input to help soothe and calm. Use as a lap pad and as a bolster for seating and positioning. Roll on arms and legs to stimulate muscles. Compact size makes it easy for therapists to carry. 3.8 lbs. 15"L x 6" Diameter. Polyester blend exterior. Stuffed and weighted with PP cotton and polystyrene. Brown. Surface wash. Age 4+
SP6985 $49.99
E F
For actual sizes, see measurements.
      G
    1.800.231.6329 FunandFunction.com
*See safety information on inside back cover for details.