Page 158 - Fun and Function Catalog 2018
P. 158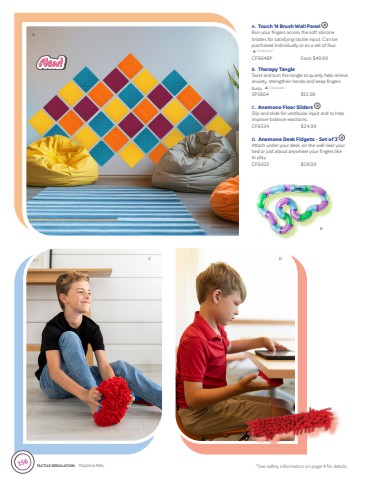 156 PROPRIOCEPTIVE REGULATION | BLANKETS
  We took this
A Heavy Sleeper Weighted Sleeping Bag
 camping and my guy slept so soundly throughout
Zip into the calming weight of our sleeping bag to settle down to sleep. Provides the security and sensation of a soothing hug. Features evenly distributed weight and breathable mesh fabric for maximum comfort. Interior bottom lined with cozy fleece. Take along on trips and sleepovers, or unzip completely to use as a weighted blanket. Choose from Deep Sea Graphic or Solid Blue. Mesh with fleece interior. Machine wash. Age 5+
the night! Looking forward to using it when he needs just a little nudge to help him fall asleep."
CMW, CORPUS CHRISTI, TX
Heavy Sleeper Weighted Sleeping Bag
WR4257 Deep Sea Graphic - 8 lbs. WR4333 Solid Sea Blue - 13 lbs.
45"W x 60"L $104.99 45"W x 72"L $129.99
   B Hug Sleeping BagTM
Use our lightweight sensory sleeping bag like a body sock or when settling down to sleep. Provides calming pressure as kids stretch, pull and roll over with plenty of space for movement. It's more breathable than a weighted blanket or sleeping bag, keeping kids cool while they sleep. Weighs 2 lbs. 61"L x 29"W. Spandex. Blue. Hand wash. Age 3+
CF6129 $35.99
C Penguin Weighted Blanket
Crawl inside our Penguin Weighted Blanket and wrap yourself
in comfort. Playful design features weighted flippers (1 lb. each) with pockets for hands. Drape either or both flippers across your body for calming compression. Weighs 3 lbs. 62"L x 28"W. Plush polyester. Removable weights are plastic pellets in enclosed fab- ric. Black and white with orange feet and beak. Machine wash. Age 3+
CF6764 $99.99
D BlanketSlipcover/SensoryCrashPad Need a cozy spot to crash, hang out or sleep? This luxurious cover slips over our weighted blankets (sold separately) for extra weight and comfort or can be used solo as a blanket. Stuff soft pillows inside to make a crash pad, or fill with crinkly paper for an auditory-sensory experience. Super smooth blue or faux fur texture engages sensory seekers and provides calming tactile stimulation. 29"W x 59"L. Machine wash. Age 3+
WR1804 Soft Blue $44.99 WR3471 Blue Faux Fur $44.99
E Weighted Blanket
Bring on the zzz's or help induce calm with our weighted blanket. Ideal for sleepwalkers and night crawlers as well as for kids who have trouble settling down to sleep -- and for all who crave a calming hug. Weight is evenly distributed throughout to prevent bunching. Blanket is available in three sizes and varying weights. Blue with green trim. Soft polyester blend and weighted with small steel shot pellets. Hand wash. For extra weight and tactile stimulation, add a slipcover. Choice of soft blue or blue faux fur. Slipcover adds an extra pound of weight. Machine wash. Age 3+
        WR1803 CF5632 CF5631 WR3835 WR2365 WR2370
29"W x 59"L (5 lbs.)
54"W x 75"L (15 lbs.)
39"W x 75"L (10 lbs.)
Blanket (Regular)+Blue Faux Fur Slipcover Blanket (Regular)+Soft Blue Slipcover 3Blankets(Regular)+BlueFauxFurSlipcover
$84.99
$139.99
$129.99
$129.98 $114.98 $129.98 $114.98 $299.99 $249.99
Regular Blanket Full Blanket Twin Blanket
         BE SAFE
Weighted blankets are not for use with small children. Never place in crib with infant. Never cover a child's face.
  1.800.231.6329 FunandFunction.com
*See safety information on inside back cover for details.