Page 160 - Fun and Function Catalog 2018
P. 160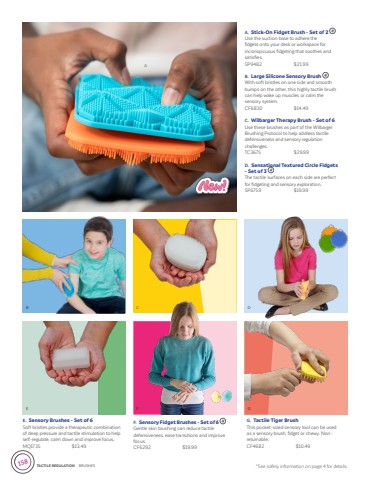 158 PROPRIOCEPTIVE REGULATION | BLANKETS
    AB
  C
D
    A Bubble Blanket
An irresistible experience for kids and adults with sensory needs. Blanket is filled with ball pit balls, providing multiple ways to self-regu- late. Lay on top and experience the sensation of floating on bubbles. Or lie underneath for calming compression. Sit on the blanket to feel the satisfying crunch of the bubbles. 1 lb. 41"L x 43"W. Polyester. Blue. Machine wash. Age 3+
CF6792 $128.99
B Soft Plush Weighted Blanket
Oh-so-soft and lightly weighted to provide calming proprioceptive input, this cozy blanket helps soothe kids to sleep. For a calm-down break during the day, wrap around your body or roll up inside like a burrito! Fold for use as a lap pad. Weight is evenly distributed through- out for uniform pressure across the body. 3 lbs. 30"L x 38"W. Plush polyester with plastic pellets. Light blue. Surface wash. Age 3+
CF6443 $99.99
C Weighted Disc Blanket
It's colorful, weighted and easy to disinect. Drape the blanket across the lap, back or trunk while sitting, reading, doing school work or therapeutic activities. The weight has a grounding effect, helping to calm, focus or in- crease alertness. 8 lbs. 30"L x 30"W. Polyurethane discs filled with plastic pellets. Multi-colored. Surface wash. Age 4+
CF6725 $199.99
D Snuggle Sheet
Do your sensory sensitive kids need help settling down to sleep? Just slip our Snuggle Sheet over the mattress, like a pillowcase. Provides soothing compression with a lighter touch than a weighted blanket. Fits standard sized mattress. Twin: Weighs 14 oz. 57"L x 39"W. Full: Weighs 1 lb. 14 oz. 74"L x 54"W. 95% organic cotton and 5% spandex. Navy blue. Machine wash and dry. Age 5+
CF6665 Twin $37.99 CF6812 Full Size $49.99
           BE SAFE
Weighted blankets are not for use with small children. Never place in crib with infant. Never cover a child's face.
 1.800.231.6329 FunandFunction.com
*See safety information on inside back cover for details.