Page 22 - Fun and Function Catalog 2018
P. 22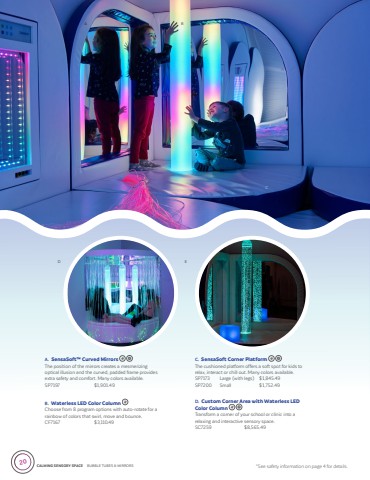 20 CLOTHING | DRESS-UP
    A
  B
     New! A Weighted Dragon Wings
For all kids who love imaginative play! Lightly weighted to help with motor planning, sensory integration and body awareness. Use during occupa- tional therapy, wear for story time or add to your dress-up wardrobe. 3 lbs. 1.5 oz. 18"L x 52"W. 100% polyester exterior. Stuffed and weighted with PVC pellets and polyester. Metallic green. Surface wash. Age 4+
SP6978 $79.99
B Stretchy Dino WrapTM
Play dress up and calm down! This stretchy dino cape is perfect for play, pretend, movement, compression and sensory integration. With little hand pockets neatly sewn inside the wrap, kids can dress up, tuck their hands into the pockets and wrap themselves snugly inside the cape. 44"L x 37"W, with 4.5" deep pockets. Polyester and spandex. Blue and orange. Hand wash. Ages 3-8
CF6169 $36.99
  1.800.231.6329 FunandFunction.com *See safety information on inside back cover for details.