Page 33 - Fun and Function Catalog 2018
P. 33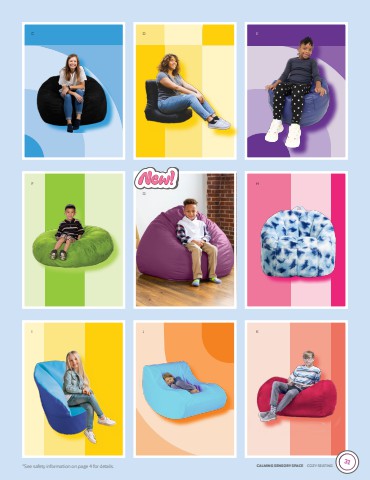 1.800.231.6329
FunandFunction.com
Noise Reduction Headphones, p.140
SensaSoft Compression Canoe, p. 85
LimeLiteTM LED Sand Table, p. 74
 CHILLSPA ROOMS SUPPORT A RANGE OF AGES, GOALS AND NEEDS.
New! A Chillspa Packages
Chill out, focus and relax! Our ChillSpa supports children who act out in aggres- sion, anxiety or frustration. Multiple sources of sensory input target disruptive behavior and help to soothe children with a range of needs. Academic instruction can take place inside the ChillSpa, creating a safe space to learn. Cozy spaces like Fun Frames with a cover give children a sense of control over their environ- ment and reduce the feeling of being overwhelmed. Interactive bubble tube, fiber optic lights and soothing music provide visual and auditory input. Hammock and net swings hug children in a gentle rocking motion. ChillSpa packages available for every room size, from Deluxe to small ChillSpas. Use with adult supervision. Age 3+
Small parts*
31
  CF7125 CF7126 CF7127 CF7128
A
Deluxe Large Medium Small
Suitable for 25' x 25' space (A) Suitable for 20' x 20' space (B) Suitable for 12' x 12' space (C) Suitable for 8' x 8' space (D)
$27,751.99 $17,539.99 $7,844.99 $6,416.99
      B
  CD
Want a custom solution or design services? Contact design@FunandFunction.com
 *See safety information on inside back cover for details.