Page 5 - Fun and Function E-Catalog
P. 5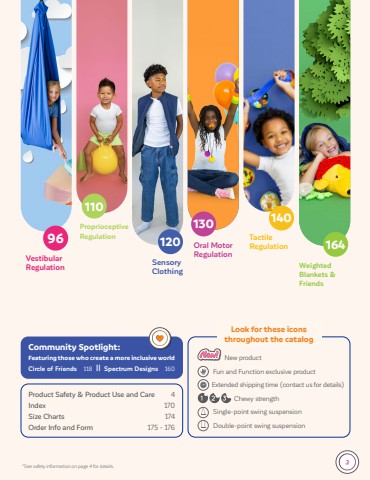 CONTENTS
NEW! 4
SENSORY ENVIRONMENTS
ACTIVEMIND PARTNERSHIP 6 BREAK BOXES 8
CHILLSPA 10 ACTION! ROOM 16 HOME ENVIRONMENTS 20 ON THE GO! 22
SENSORY ENVIRONMENTS
CLOTHING 23 WEIGHT AND CALM 32 SEATING 40
SENSATIONAL SWINGS
SWINGS 49
ORGANIZERS
MOUTH ORGANIZERS 64 VISUAL ORGANIZERS 77 AUDITORY ORGANIZERS 87 TOUCH ORGANIZERS 89
SCHOOL WORK
HANDWRITING 110 SCISSORING 119
MOVE AND THINK
MOVEMENT 120 STRETCHING 122 JUMPING 124 CRASHING 126 SCOOTERS 128 CRAWLING 130 BALANCE 132 REGULATION 136
INDEX 141 SIZE CHARTS 143 ORDER FORM 144
ABOUT THE SYMBOLS:
MADE BY FUN AND FUNCTION Fun and Function exclusive product.
1 - 4 weeks for delivery. (Contact us for speci c time.) Teens will love it! (And adults too!)
Watch the product video at FunandFunction.com
Swing has single point suspension. Swing has double point suspension.
Find out why customers love our PRODUCT VIDEOS!
Visit FunandFunction.com and click on play!
SAFETY KEY: For safe play, please look for these notices in the catalog:
CHOKING HAZARD - Small Parts. Not for children under 3 yrs.
CHOKING HAZARD - Small Balls. Not for children under 3 yrs.
HAZARD - This product contains small magnets. Swal- lowed magnets can cause complications leading to serious infections and death. Seek immediate medical attention if magnets are swallowed or inhaled.
Prices effective through Oct. 30, 2017. Exceptions may apply. We reserve the right to adjust prices and styles depending on availability.