Page 54 - Fun and Function Catalog 2018
P. 54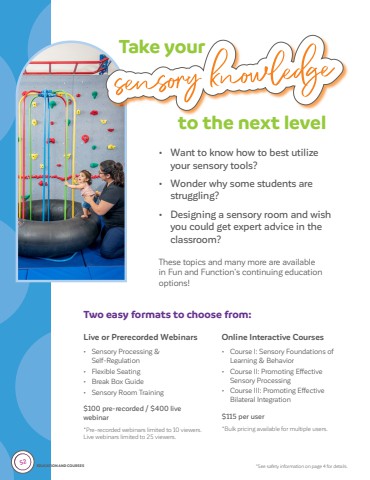 52 SEATING | BALL SEATING
 A
  C
 B
    A Chair Ball
Our therapy ball has four "feet" to stabilize the ball when you stand up, and prevent rolling away. Blue ball holds up to 150 lbs. Yellow ball holds up to 200 lbs. Thermo- plastic polyurethane. Air pump sold separately. Age 3+
BL6441 Blue 21" $30.99 BL6442 Yellow 25" $36.99
B Tactile Sensory Ball
Covered with raised bumps for tactile fun! Makes seating, exercise and therapeutic activities more stimulating and help to wake up the sensory system. Use to challenge core muscles, body awareness and balance, while improving focus and attention. Holds up to 200 lbs. 28" diameter PVC ball. Contains BPA. Blue. Air pump sold sepa- rately. Age 3+
Small parts*
       Small parts* BL1879 $29.99
         D
C Modern Ball Chair
Therapy ball with backrest and locking wheels. Promotes good posture, engages the core and challenges balance. Weighs 15 lbs. Holds up to 250 lbs. 22"L x 31"W x 22"H. 20.86" Diameter. Latex-free. Gray. Includes hand pump. Age 7+
CF4884 $139.99
D Therapy Ball
Can't sit still? Get a seat that lets you move! Sitting on a balance ball strengthens core muscles and lets kids bounce. Sit on it, roll around on it, or just have a ball Holds up to 250 lbs. PVC. Air pump sold separately. Age 3+
BL1867 BL1868 BL1869 BL1870 BL1871
Small parts*
     Yellow 17" $20.99 Orange 20" $22.99 Green 24" $24.99 Blue 29" $26.99 Red 31" $28.99
E
 E Magic Air Electric Inflator/Deflator
The must-have electric-powered air pump for homes, schools and clinics. Quickly inflates and deflates cushions, therapy balls, inflatable swings, ball pits and more. 1 year warranty. 12.5"L x 5.25"H x 4"W. Adult use only.
BL4397 $99.99
F Double Action High Volume Hand Pump
Hand pump quickly inflates medium to large items such as therapy balls and seat cushions. Just pump up and down until object is inflated to desired fullness. Includes large hose and valve adapter for smaller to medium items. 18.75"H x 8.25"L x 4.83"W. Age 5+
BL1562 $25.99
  Small parts*
F
   1.800.231.6329
FunandFunction.com
*See safety information on inside back cover for details.