Page 62 - Fun and Function Catalog 2018
P. 62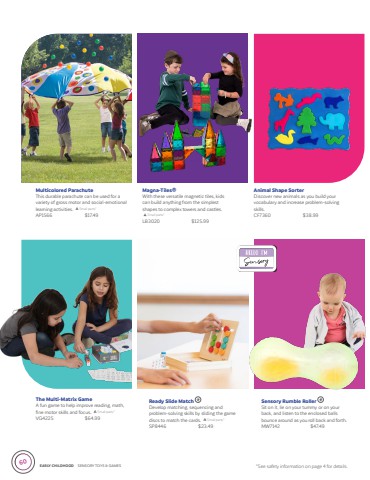 60 SEATING | LAP PADS
   monkey-3 lbs.
zebra-5 lbs.
  AC B
          A Animal Lap Pad
This lap pad doubles as a friendly companion! The cute ears and tail provide tactile exploration for fidgety fingers. Calming pressure supports focus and concentration. Features a pocket for storing small items. Polyester. Monkey is brown with soft and furry textures. Zebra is black and white with felt stripes and smooth leathery textures. Surface wash. Age 3+
D
E
C Denim Weighted Lap Pad
Stylish and subtle in denim, our weighted lap pad is perfect for older kids, teens and adults. Place on your lap for calming deep pressure and proprio- ceptive feedback to help stay focused. Fold for concentrated weight. Weighs 4 lbs. 8"L x 16"W. Cotton denim with pellets. Blue. Surface wash. Age 8+
CF6353 $56.99
New! D Weighted Sensory Knot Ball
So many nooks and crannies for hands to explore! The giant weighted knot is stretchy all over, making it irresistible for people who crave tactile stimula- tion. Use as a hands-on heavy work activity, lap pad and fidget. Gently toss for eye-hand coordination and sensory integration therapy. Weighs approx. 5 lbs. 16" Diameter. Weight and size may vary slightly. Polyester and polyure- thane. Foam and polypropylene pellet filling. Blue. Surface wash. Age 4+
CF7042 $109.99
E Denim Pocket Lap Pad
The weighted lap pad with built-in fidgets and pockets! Calming weight provides proprioceptive input. Varied textures for tactile exploration. Tuck hands into the front fleece-lined pockets and fidget with the elastic coils sewn inside. Store small toys or fidgets in the side pockets with closures. Fold for concentrated weight. Weighs 6 lbs. 21"L x 9"W. Cotton denim with pellets. Blue with black trim. Surface wash. Age 5+
CF6545 $59.99
 WR4268 WR4269
Monkey - 3 lbs. Zebra - 5 lbs.
8"W x 13"L 9"W x 18"L
$48.99 $49.99
    B Weighted Worm
Inch by inch, our Weighted Worm provides calming sensory input and comm- panionship. Drape him around your neck like a scarf, let him curl up in your lap or wrap him around your waist. His gentle weight supports focus and attention. He's squishy, smooth and bendable, making him a fantastic fidget. 1.5 lbs. 75"L x 2" Diameter. Spandex with pellet filling. Green, black, red and yellow. Surface wash. Age 3+
CF5874 $31.99
    1.800.231.6329 FunandFunction.com
*See safety information on inside back cover for details.