Page 63 - Fun and Function Catalog 2018
P. 63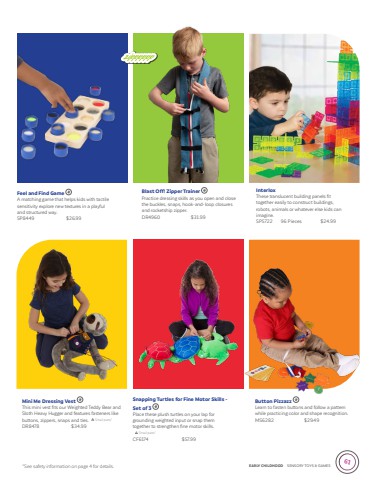 SEATING | LAP PADS 61
  F
 H I
      G
   F Mega Weighted Lap Pad
Can't choose between a weighted blanket or lap pad? This offers the best of both worlds! Drape across your lap, back or shoulders like a cape. Provides deep pressure and soothing sensory integration wherever it's most needed. Can be rolled or folded for concentrated weight. Soft fleece on one side, breathable mesh with sea graphic on the other. Weighs 3 lbs. 20"L x 20"W. Surface wash. Age 4+
H At the Beach Discovery Bag
Take the beach with you, but without the mess! Peer through the clear vinyl window and move the sand to find 11 hidden beach-themed pieces. Includes coated coils and mesh for tactile exploration. Weighted for proprioceptive input. Weighs 2 lbs. 8 oz. 14"L x 12"W. Soft fabric, mesh, polyester and vinyl. Multi-colored. Surface wash. Age 3+
CF6593 $29.99
I Jumbo Weighted Lap Pad
The calming compression of a weighted blanket in the compact travel size of a lap pad. Weight is evenly distributed for soothing sensory input. Place on lap, back or shoulders to support focus at home, school or work. Use as mini blanket, roll or fold as needed. Weighs 6 lbs. 28"L x 28"W. One side 100% polyester plush fabric, reverse side 100% cotton twill. Filled with fine steel pellets. Forest green. Surface wash. Age 5+
CF6712 $65.99
   CF5835 Lap Pad SP6708 Lap Pad Cover
$39.99 $17.99
 G Weighted Lap Pad Slipcover
Add extra comfort or tactile stimulation to your lap pad with a super soft covv- er. Fits our Wipe Clean or Find Me Lap Pads. Feels good and engages fidgety fingers. Stuff t-shirts or towels inside to make a soft seat cushion. Fill with crinkly paper for an auditory and tactile experience. Hook-and-loop closure. Machine wash. Age 3+
  WR1840 WR1841 WR1842 WR3479 WR3481 WR3483
Smooth Blue Smooth Blue Smooth Blue Blue Fur Blue Fur Blue Fur
Small (14"L x 9"W) Medium (18"L x 10"W) Large (24"L x 12"W) Small (14"L x 9"W) Medium (18"L x 10"W) Large (24"L x 12"W)
$10.99 $10.99 $10.99 $12.99 $12.99 $12.99
      1.800.231.6329 FunandFunction.com
*See safety information on inside back cover for details.