Page 78 - Fun and Function Catalog 2018
P. 78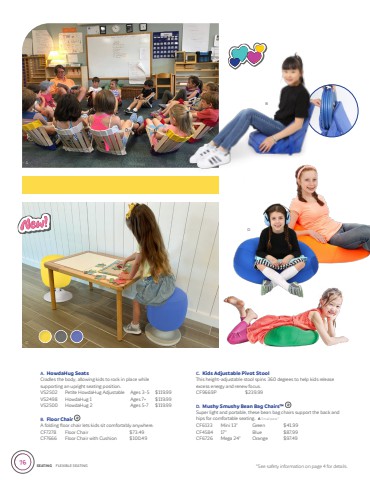 76 REGULATION | WEIGHT/PROPRIOCEPTION
 A
        
Kids can put their favorite items inside, then push their way across the room."
ILANA DANNEMAN PHYSICAL THERAPIST AND PRODUCT DEVELOPER AT FUN AND FUNCTION Weighted Pushcart
BC
A Emotion Balls
How do you feel? Identify the facial expressions on our colorful Emotion Balls. Choose from happy, angry, sad, excited, scared
or amazed. Then toss your emotion away or hold onto it to play. Aids in self-expression, empathy and mood regulation. Supports social skills and self-awareness. Inflate with pump (sold separate- ly). Includes 6 balls. Each ball (deflated) weighs 3 oz. 8" Diameter. PVC. Red, orange, yellow, blue, green and purple. Surface wash. All ages.
CM6705 $43.99
B CanDo® Weighted Hand Balls
A ball, squishy fidget, and weighted sensory tool, all in one! These soft, sand-filled balls conform to your hand. Use for therapy activities, exercise or play. Squeeze when stress relief, focus or calm is needed. Carry throughout the day or hold during travel or transitions for sensory input. Textured surface offers slip-free grasp. Inflate or deflate with hand pump (sold separately) to adjust firmness. 5" Diameter. Vinyl. Balls sold individually online. Surface wash. Age 3+
MW5668 6-piece Set $75.99
New! C Weighted Textured Balls-3 Pack
Learn about size, color and texture while tossing, catching, stacking and manipulating these weighted balls. Each ball offers a different texture (raised bumps, inverted bumps and raised lines) to enhance tactile sensory input. Use during occupational therapy sessions, early childhood learning or just to toss around! Large
red ball: 7" Diameter; 1.5 lbs. Medium blue ball: 5" Diameter; 1 lb. Small yellow ball: 3" Diameter; 8 oz. 100% polyester. Weighted with EPE, PP cotton and steel sand. Surface wash. Age 4+
SP6983 $43.99
New! D Weighted Pushcart
Fill with your favorite sensory tools or even weighted companions for an extra challenge. Perfectly sized for younger children with low tone who may need extra stabilization to help balance as they walk. 15 lbs. 23"L x 17" W x 21"H. Baltic birch wood with polyure- thane gloss coating. Surface wash. Ages 3+
MW7007 $265.99
      D
 1.800.231.6329
FunandFunction.com
*See safety information on inside back cover for details.