Page 79 - Fun and Function Catalog 2018
P. 79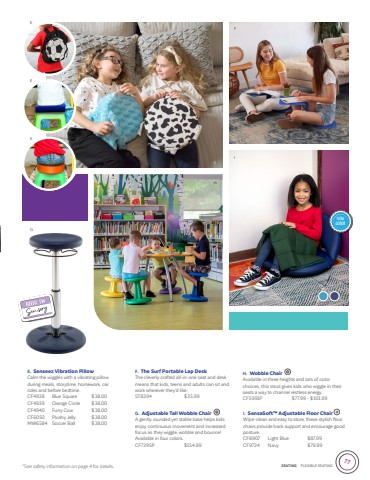 REGULATION | MOOD/EMOTION 77
   E F
   G
   HI
    E Textured Foam Roller
Let stress roll off you! Offers the same deep press- sure as a foam roller, but with texture for added tactile appeal. Kids love the soothing, bumpy feel on their legs and shoulders. Helps calm tension, wake up muscles and boost focus. Do not roll on the stomach, neck or face. 10 oz. 19.5"L x 2.5" Diameter. Foam. Colors may vary. Surface wash. Age 3+
CF6281 $26.99
F Pressure Foam Roller
Roll away the wiggles with our popular Press-
sure Foam Roller. Apply light, medium or heavy pressure as you roll the upper back, legs and shoulders. Provides full body pressure to calm and improve focus. Kids can imagine being a pancake or cookie dough. Take periodic 5-minute roller breaks to re-energize or renew concentration for learning. Do not roll on the stomach, neck or face. 10 oz. 11.5"L. Wheels 1.5" Diameter. Rubber. Latex-free. Colors may vary. Surface wash. Age
3+
CF5821 $25.99
G Mood Squares
Feeling happy, sad or angry? Mood Squares show a range of facial expressions and help kids recog- nize emotions in themselves and others. Squeeze and manipulate the colorful squares and talk about your feelings. The squishy gel also makes great fidgets. Includes 3 squares: yellow (happy), blue (sad) and red (angry). 3 oz. each. PVC filled with gel. Surface wash. Age 3+
CF6257 $44.99

I like to pretend these are my friends..." REAGAN, AGE 5 // Mood Squares
H Regulation Cubes
Regulation Cubes are like Simon Says dice that encourage sensory motor planning. When kids need help choosing the appropriate activity, toss up one of these soft giant cubes and see what lands. Each colorful side suggests a different sensory or motor activity. Great for solo or group play. Includes 2 cubes and 24 colorful illustrated cards. Cubes weigh 5 oz. and are 6" square. Vinyl. Colors may vary. Surface wash. Age 3+
MW6316 $37.99
New! I Regulation Animals, ABC's
& 123's Cards
Encourage kids to move, jump and stretch. Each card features a different animal, letter and num- ber with a gross motor prompt. Get active and learn your ABC's, 123's and animals at the same time. Integrate into occupational therapy, sensory integration therapy, speech and language therapy as well as classroom learning. Includes 49 cards. 2 lbs. 5 oz. 5"L x 5"W. Card stock with UV coating. Surface wash. Age 3+
MW7003 $30.99
           1.800.231.6329 FunandFunction.com
*See safety information on inside back cover for details.