Page 113 - Fun and Function Catalog 2018
P. 113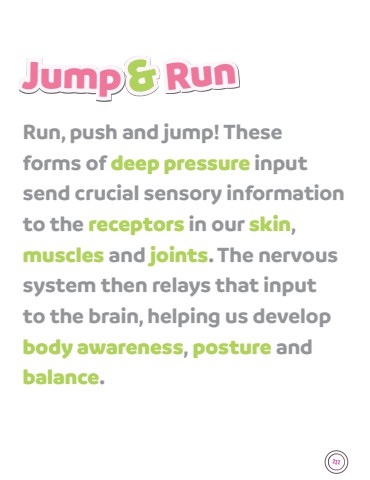 G Gnaw StrawsTM - 3 Pack
Reusable drinking straws for kids (and adults) with oral motor and oral sensory challengg- es. Soft, flexible, chew-friendly design. Chew lightly to strengthen mouth muscles, practice blowing bubbles, or tie in knots to build fine motor skills. For light chewers. Includes 3 straws. 12"L x .25"D. Food-grade silicone. Free of BPA, phthalates and latex. Green, blue, purple. Surface wash. Use with adult supervision. Non-returnable. Age 4+
H Spaghetti Chewy FidgetTM
The ultimate chewy, manipulative and fidget that can travel anywhere! Just clip the multi-colored, tactile and fun-to-play-with fidget onto a belt, bag or clothing. Manipu- late it, braid it, twirl it, bite it, chew it! For moderate chewers. 9"L. Rubber tubing, nickel clip. Colors may vary. Surface wash. Use with adult supervision. Non-returnable. Age 4+
Small parts* CF6823 $14.99
Cool Chews
How can we guarantee these chews are really cool? Kids helped us pick the best colors, shapes and textures! The bumps and ridges offer different textures for a varied sensory experience. Cool Chews are flexible and bendable, doubling as finger fidgets. The Butterfly and Race Car have a hollow center and can be placed on a pencil, necklace, keychain or Cool Chew Stem. For light to moderate chewers. Race Car measures 2.625"L x 2.25"W, Butterfly measures 3"L x 2.625"W and Stem measures 5"L x .5"Diameter. Silicone. Assort- ed colors. Surface wash. Use with adult supervision. Non-returnable. Age 3+
G
H
ORAL MOTOR REGULATION | CHEWIES 111
  F Vibra Chew
Need some heavy mouth work to discourage destructive cheww- ing? This tough chewy promotes sensory integration for biters and grinders. Tactile ridges along the flexible vibrating stick provide an oral motor workout. Use with or without vibration to reach deep into the back of the jaw or to massage facial mus- cles. Requires 1 AA battery (not included). For moderate chew- ers. 9"L with 2.75"L tip. 1 lb. Plastic handle with non-toxic PVC chewy. Designed without latex. Green and blue. Surface wash. Use with adult supervision. Non-returnable. Age 3+
CF6376 Vibra Chew $12.99 CF6794 Vibra Chew-5 Pack $64.95 $59.99
     F
                    I Cool Chews Stem
J Cool Chews Race Car
 J
I
K
 CF6313 CF6314 CF6315 CF6523 CF6524
Red
Blue
Pink
3 Pack Multicolored 10 Pack Multicolored
$5.99
$5.99
$5.99
$23.97 $19.99 $59.90 $47.99
CF6308 Red
CF6309 Blue
GO3817 Pink
CF6519 4 Pack Multicolored
CF6520 10 Pack Multicolored
$9.99
$9.99
$9.99 I $39.96 $33.99 $99.90 $79.99
    K Cool Chews Butterfly
Cool Chew Super Pack
Includes: 2 Cool Chew Butterflies, 2 Cool Chew Race Cars and 2 Cool Chew Stems. Colors may vary.
KT5831 $51.94 $44.99
 CF6310 Pink
GO3814 Red
GO3815 Blue
GO3956 Orange
GO4282 4 Pack Multicolored $39.96 $33.99 GO4283 12 Pack Multicolored $119.99 $89.99
$9.99 $9.99 $9.99 $9.99
   1.800.231.6329 FunandFunction.com
*See safety information on inside back cover for details.