Page 2 - Fun and Function E-Catalog
P. 2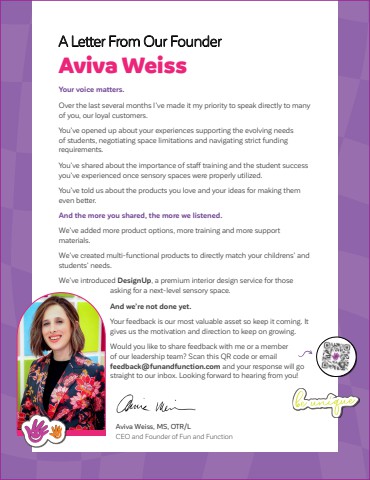 EMPOWERING DIFFERENT:
Thanks for opening our most requested item
around the globe -- our catalog! These pages
reflect what you've shared about your day-  make a real difference in the lives of children.
A Lifetime Journey
celebrating each person's differences and
to-day challenges along with strategies that can be helpful. Together with you, we are
Life Happens
unique contributions We live and breathe to And everything we do is guided by these values:
ActiveMind
The school calls about your child's behavioral issues that are disrupting the class. Your in-laws are struggling to relate to their grandchild who doesn't respond in a typical way. The birthday party is too noisy for your child to enjoy. If this sounds familiar, explore our sensory organizers (p. 64), mood regulators (p. 136), and self-expression games (p. 139).
Need a robust strategy to address the sensory needs of your students? Our ActiveMind School Partnership is an integrated solution that fosters inclusion and self- regulation to support academic progress and mitigate behavioral issues. For details on tools, training, and results tracking, see (p. 6).