Page 3 - Fun and Function E-Catalog
P. 3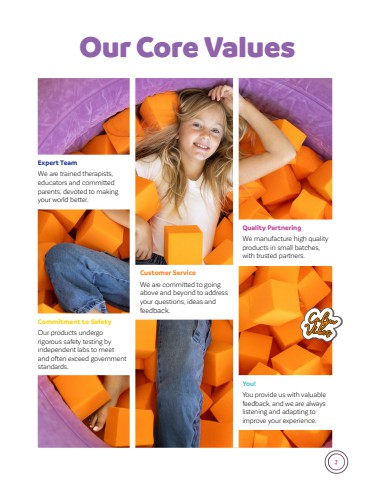 We design and sell one-of-a-kind therapeutic tools that we believe will help children reach their fullest potential.
We support and relate to each person's needs, and know our differences make the world a better, more interesting place to be!
We're on the same team as you, and we offer our knowledge freely to help guide the
Power User
best choices for your family, your school, your community.
In the pages ahead, you'll  nd new ideas, warm empathy, constructive support -- and tangible products and solutions.
Thanks again for letting us be part of your journey -- and please don't forget to keep in touch. We love hearing from you!
Unsung Heroes
Yes, even the most experienced people like to  nd new ways to use therapy tools and exchange tips with experts. You've come to the right place. Check out six ways to teach auditory sensitive children (p. 87) and tips to sharpen focus with standing breaks and stations (p. 43). And we have the best demo videos on our website, produced by our expert therapist Ilana Danneman.
Of course it takes a village and we honor the everyday heroes: the elementary school teacher who helps students reach big and small goals (p. 64); the therapist who helps kids  t in (p. 23); the community organization that supports (p. 89); the devoted grandparents (p. 110) and parents (p. 32) who are ever-present; and the youthful perspectives of Simcha (p. 49), Trent (p. 76) and Cody (p. 40).