Page 45 - Fun and Function Catalog 2018
P. 45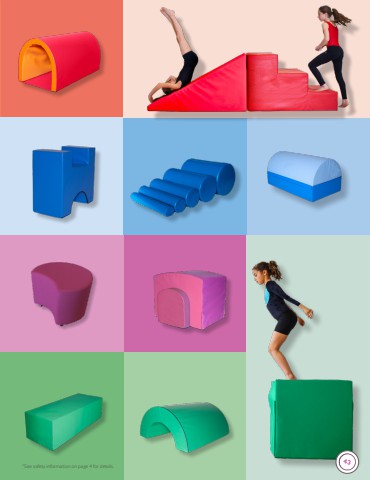 ACTIVEMIND PARTNERSHIP | EARLY CHILDHOOD ACTION ROOM 43
      C D
E
    F
     C Monster Bean Bags- Set of 3
Toss 'em or hug 'em? Why not do both? Toss to practice hand-eye coordinaa- tion or have kids focus on the adorable faces to talk about which emotions each represent. Bags are lightly weighted as a source for heavy work and to help build strength. Great companions for travel or snuggling. Each weighs 1.25 lbs. 6" square. Plush polyester. Red, purple and orange. Surface wash. Age 3+ Small parts*
SP6177 $32.99
New! D Monster Bean Bag Target Toss
Quick, feed the monster before he gets hangry! Grab the Monster Bean Bags (sold separately) or your own bean bags and aim for the monster's mouth. Encourages hand-eye coordination, motor planning and sensory processing skills. 7.5 lbs. 23"L x 20"W. Vinyl-covered wood with printed facial features. Purple, red and white. Surface wash. Age 4+
MW6967 $72.99
E Weighted Tactile Beanbags
Soothe and build skills with weighted beanbags, each with its own texture and color. Use for upper extremity exercise, heavy work and sensory input. Toss to practice hand-eye coordination or tuck into weighted vests for deep pressure. Includes five beanbags, each with a different texture (smooth satin, denim, bumpy corduroy, soft fleece and solid cotton) for tactile exploration. Styles vary. Cotton and polyester exterior, weighted with steel shots. Age 3+
TC1801 1 lb. (4"W x 5"L) $22.99 TC1802 1/2 lb. (3"W x 4"L) $19.99
F SensaSoftTM Texture Track
Line up these foam-covered shapes to create a walking path, balance beam, floor puzzle or soft play surface. 15 pieces have contrasting fabrics with differ- ent colors, shapes and textures for tactile exploration. Encourages kids to use imagination and motor planning skills. Each shape also doubles as a soft seat for circle time or as a cushion for reading. Weighs 26.5 lbs. Includes 10 square pieces, 4 quarter pieces/wedges, and 1 circle piece. PVC outer/foam filler, pol- yester, denim, nylon and acrylic. Easily disinfects. Surface wash. Age 3+
SP6676 $339.99
       1.800.231.6329
FunandFunction.com
*See safety information on inside back cover for details.