Page 41 - Fun and Function Catalog 2018
P. 41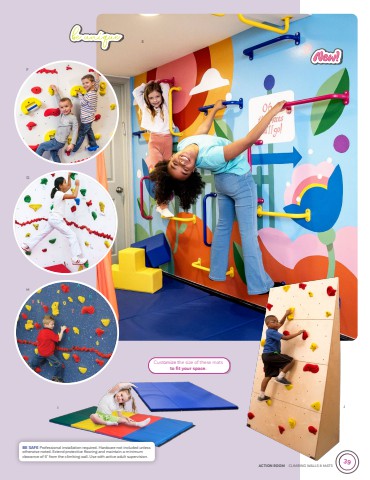 Emotions Gel Floor Tile
Discovery Putty p.104
ACTIVEMIND PARTNERSHIP | CHILLSPA 39
  C GelFloorTiles
Squishy and ooze-y colorful fun! Encourages visual processing and sensory stimulation for all ages. Invite sensory-seeking kids to step, sit or jump on the tiles and watch the colors ooze. Even young children can push the gel around with their hands. Place several on the ground to create a colorful floor mat or walking path. Each 20"L x 20"W tile supports up to 150 lbs. Acrylic tiles have wood base. Age 10 months+ Multicolored 4-Pack (SP6531) contains one of each color. Emotions Tile (SP7001) features five expressions to help kids identify and express their feelings. Spinner Frame (CF6856) holds one tile. Mount on the wall or place on the floor, but frame should not be used as a seat. Frame weighs 15 lbs. 24"L x 20"W x .5"D. Wood. Age 3+
Gel Tile sold separately
   SP6268 Blue
SP6528 Purple
SP7008 Green
SP6530 Red
SP7012 Multicolored - 4 Pack CF7001 Emotions
CF6856 Gel Tile Spinner Frame
$45.99
$45.99
$45.99
$45.99 $179.99 $49.99 New! $199.99 New!
Gel Tile Spinner Frame
1.800.231.6329 FunandFunction.com
*See safety information on inside back cover for details.