Page 121 - Fun and Function Catalog 2018
P. 121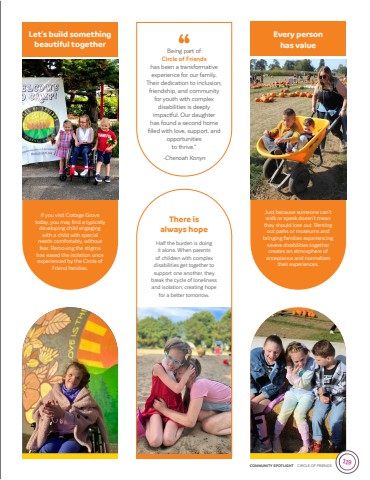 VESTIBULAR REGULATION | SWINGS 119
    A
C
B
  A Air-LiteTM Junior Bolster Swing
Our therapy swing helps build motor skills and core muscles as kids swing side-to-side and front- to-back. Provides a smooth ride to under-re- sponders, and lots of action for over-responders. Challenges balance reactions as children change positions. Offers proper head and body alignment as they swing. Lightweight yet highly durable
for heavy use. Hang from single point or 2-point suspension. Includes carabiners for installation. Inflates and deflates quickly for easy storage and travel (high-volume pump sold separately). 1 year warranty, void if punctured by sharp objects or exposed to extreme temperatures. Weighs 2.4 lbs. Holds up to 150 lbs. 16"L x 8"D. Straps are 54"L. Suspension height of 6' recommended. Latex-free vinyl. Blue. Surface wash. Age 4+
VS4611 $199.99
B Buoy Ball Swing
Is it a swing? A trapeze? It's both! Climb on up and ride away while challenging motor planning skills and balance reactions. For additional secu- rity, grab the height-adjustable trapeze bar. Helps to strengthen core stability, hand muscles and sensory integration. Durable buoy stands up to frequent use. Includes 2 carabiners. Suspend from a doorway bar or ceiling suspension kit (sold sep- arately). Swing is 4'H and buoy has 44" Diameter. Requires 6' suspension. Holds up to 150 lbs. PVC and rope. Red. Surface wash. Age 4+
C Web Tower Swing
Everyone climb aboard! Provides sensory integraa- tion and heavy work while kids climb and swing. Swing side-to-side or around in circles. Stand on the outside ring or lie down in the webbed center. Use solo or with friends. Encourages motor plan- ning, balance reactions, vestibular orientation, sensory processing and socialization. Includes a swivel and 2 carabiners for installation. Weighs 22 lbs. Holds 1-4 children, up to 330 lbs. 58"H x 39" Diameter. Requires 7' suspension. Black. Surface wash. Age 4+
         MW6142
$144.99
KT6149
$239.99
    Hardware not included unless otherwise noted. Professional installation recommended.
BE SAFE
Inspect equipment regularly for wear and tear or improper fit and replace as needed. Extend protective flooring and maintain a minimum clearance of 6' around the perimeter of swings. Use with adult supervision.
   1.800.231.6329 FunandFunction.com
*See safety information on inside back cover for details.