Page 124 - Fun and Function Catalog 2018
P. 124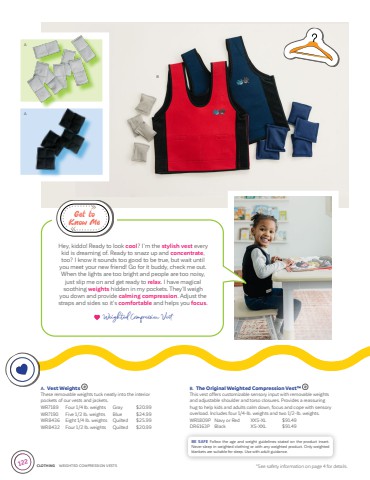 122 VESTIBULAR REGULATION | SWINGS
A Kangaroo Pouch Suspender
Bounce, move around and hop like a kangaroo while suspended in place! Kids can move while feeling supported. They'll love hopping like a kangaroo! Smooth, stretchy fabric provides sensory input and calm- ing pressure. The bottom of the pouch also makes for a great spot
to curl up for quiet time. Use a set of Height Adjustable Swing Chain Hardware with 2 carabiners (all sold separately). Holds up to 100 lbs. 59"L (from top of strap to bottom) x 30"W. Opening is 30"L. Spandex. Light brown. Hand wash. Ages 4-12
MW6293 $109.99
B Textured Platform SwingTM
Exercise your body and stretch your imagination! Fly on a magic carr- pet, ride the waves, or just sit and swing away. Encourages vestibular orientation and balance training. Large, sturdy base offers feeling of security and support, helping to build confidence. Can be used while kneeling, standing or lying prone. Textured padding for grip and cush- ioning. Includes swing hardware, carabiners and 4' ropes for hanging. Holds up to 150 lbs. 30"L x 30"W. 54" ropes are attached to adjustable 18" chains. Suspension height of 7'6" recommended. Wooden base covered with closed-cell foam. Surface wash. Age 4+
SP5019 $249.99
C Adjustable Double Trapeze Bar Swing
Bring the circus to your home, clinic or school! This versatile trapeze swing is designed to boost confidence and coordination for kids of different abilities and ages. Climb, swing, sit, stand or hang to help strengthen hands, upper body and core. Kids can hold the top bar for balance as they swing or pull themselves over it -- a fun challenge in motor planning. Suspend from 2-point ceiling mount or doorway bar (sold separately). Suitable for indoor or outdoor use. Holds up to 150 lbs. 5'1"L x 20"W with 16" adjustable chains at top. Suspension height of 7'1 recommended. PVC and rope. Age 4+
MW4961 $64.99
D Cocoon Swing
Sometimes kids need a quiet, cozy place to escape. Other times they A need to climb and swing like monkeys! Hang this climbing swing from
a 2-point suspension for a gentle, calming ride. The 10" thick interior cushion provides a comfy seat. When hung from a single point, the swing spins around and encourages active play, climbing and heavy work. Includes 2 carabiners. Holds up to 100 lbs. Weighs 5 lbs. 20"W x 4"H. Suspension height of 6' recommended. 100% cotton. Color may vary. Surface wash. Air dry. Ages 3-12
MW6506 $99.99
E Raindrop Swing
Get heavy work or just hang out! Our multi-functional swing provides sensory input to help calm and self-regulate. As kids climb in, stretch out and move around inside the swing, they learn body awareness, balance, motor planning and spatial skills. Stretchy, heavy-duty fabric provides sensory pressure all over and creates a fun, private space to bounce, swing, spin or just lie motionless. Includes bonus hardware for safe rotation. Weighs 4 lbs. Holds up to 150 lbs. 60"L x 40"W. Span- dex. Blue. Surface wash. Age 4+
MW6963 $279.99
                  1.800.231.6329 FunandFunction.com
*See safety information on inside back cover for details.
Hardware not included unless otherwise noted. Professional installation recommended.
BE SAFE
Inspect equipment regularly for wear and tear or improper fit and replace as needed. Extend protective flooring and maintain a minimum clearance of 6' around the perimeter of swings. Use with adult supervision.