Page 147 - Fun and Function Catalog 2018
P. 147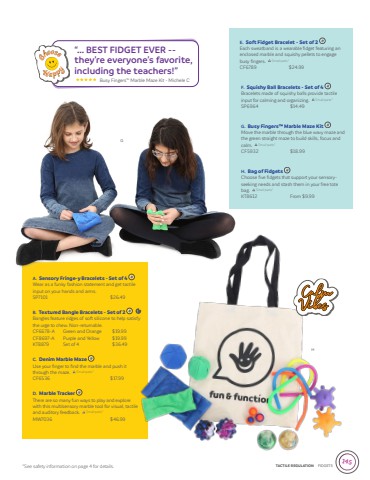 F
A Monkey Tunnel
Go bananas as you climb, crawl and hide! Inch through the lightweight tunnel to build spatial awareness and coordination, or hide away from lights and noise. Encourages social imaginative play or can be a safe spot when you want alone time. Collapses for easy storage. Case included. Weighs 4 lbs. 6'L x 20"W x 20"H. Polyester with wrapped steel spring frame sewn into fabric sleeve. Age 4+
VS4065 $21.99
B Squeezer
The Squeezer is your own personal 'hug machine.' Kids roll themselves through the foam rollers,
like dough through a pasta machine, to feel the calming effects of heavy work, motor planning and imaginative play! Adjusts to provide the appropri- ate level of proprioceptive feedback for each child. Includes instruction manual. Choose from single squeezer with two rollers (weighs 35 lbs., 22"L x 29"W x 16"H), or double squeezer with four rollers for additional pressure (weighs 54 lbs., 33.5"L x 29"W x 16"H). Recommended for children under 100 lbs. Age 5+
C Crawl and Calm Resistance Tunnel
Work out and calm down at the same time! The Crawl-and-Calm Resistance Tunnel encourages crawling, pushing, pulling, heavy work and explo- ration as kids move through the resistant fabric. Helps increase body strength and supports sensory integration. Folds up in seconds for easy storage and travel. Combine with other therapy tools to create an obstacle course or use alone for hours of fun. Choose from small and large (with handles). Weighs 1 lb. 12 oz. Spandex and polyester. Blue. Machine wash. Age 3+
E Air-LiteTM Barrel Roll
Rock and roll! The activities are limitless and so is the laughter as kids use our Barrel Roll to improve balance reactions, motor planning and sensory in- tegration. The soft squishy barrel transforms into a space capsule, washing machine, tunnel or cave! It can also be a cozy spot to read or talk. Place on its side and fill with balls (sold separately) for a mini ball pit and sensory therapy. Inflates and deflates quickly for easy storage and travel (high-volume pump sold separately). 1 year warranty, void if punctured by sharp objects or exposed to extreme temperatures. Weighs 7.2 lbs. Holds up to 75 lbs. 24 inner, 40 outer wheel diameter. 36W x 42L when fully inflated. Purple vinyl with flocked outer covering. Latex-free. Surface wash. Adult supervi- sion required. Age 4+
CF4637 $169.99
F Rocketship Resistance Play
Tunnel
Blast off to outer space! With stretchy material on one end and mesh on the other, this tunnel offers different levels of resistance as kids crawl through. Wrap it around your body for calming deep pressure or push yourself through the tunnel for a great upper body workout. Hold the handles at the end as kids climb through, or attach the tunnel to a wall or structure. Cool space pattern. Includes plush rocket that attaches to the tunnel surface with hook-and-loop. 1 lb. 12 oz. 8'L x 28"W. Span- dex and mesh. Machine wash gentle. Age 3+
WR3746 $95.99
F
PROPRIOCEPTIVE REGULATION | TUNNELS 145
      MW5635 Large MW5900 Small
8'L x 28'W 4'L x 28'W
$59.99 $35.99
    VS4920 Single Squeezer
VS4921 Double Squeezer
$479.99 $699.99
D Crawling Tunnel
Not just a tunnel to crawl through, it's a treadmill, a ball pit and more! The Crawling Tunnel stretches and rolls on the ground as you crawl through it, making it suitable for people of all sizes. Kids can pretend they're hamsters as they roll around while strengthening core muscles and gross motor skills. Hoops with fasteners easily attach to the high-den- sity nylon-covered foam padding. Disassembles quickly into three pieces. Choose from two sizes. Small weighs 10 lbs. Large weighs 14.5 lbs. Age
3+
  VS1989 34"
VS1990 41"
$93.99 $124.99
  1.800.231.6329
FunandFunction.com
*See safety information on inside back cover for details.