Page 151 - Fun and Function Catalog 2018
P. 151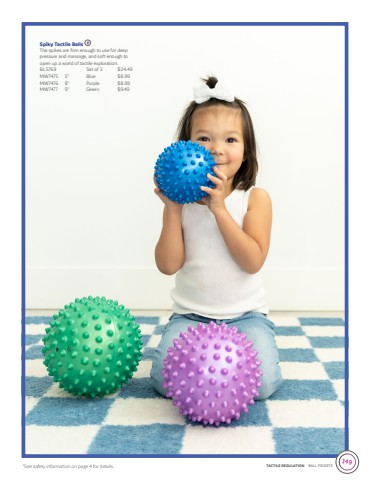 Busy FingersTM Weighted Sensory Pillow Available Winter 2019
Weighted Pushcart p.76
Emoji Noise Reduction Ear Muffs p.83
Make it a haven for focus
Sensory spaces work great for homework time and studying because there are fewer distractions. If sit- ting still is a challenge, try a wiggle seat cushion or therapy ball in place of a standard chair. Alternative seating allows kids to move and organize their sen- sory systems while they think. A metronome or Time- Timer can help them stay on task. To help kids focus, keep all these tools within arm's reach in a basket or storage container.
Find more tips on designing your at-home sensory space at funandfunction.com/blog.
Touchable Textured Mitts p.97
Large Silicone Sensory Brush p.98
Plush Pickle p.153
Designer Weighted Honeycomb Lap Blanket p.155
Bite Bands p.116
Jumbo Weighted Lap Pad p.61
Happy Pillow p.81
Emotions Cushions p.55
PROPRIOCEPTIVE REGULATION | HOME HABITATS 149
 Mushy Smushy Beanbag ChairTM p.57
1.800.231.6329 FunandFunction.com
*See safety information on inside back cover for details.