Page 20 - Fun and Function Catalog 2018
P. 20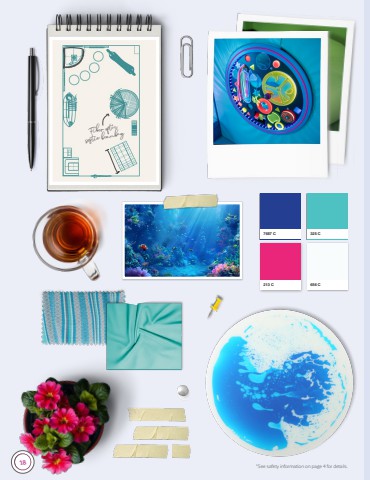 18 CLOTHING | VESTS
  A
B
C
D
      A Kids Weighted SuspendersTM
Provide deep pressure and weight directly to both shoulders. Each strap has 1/2 lb. of weight. Weighs 1.1 lbs. total. Adjusts from 25"-34"L. For fit, measure from the top of your child's pants in front, across the shoulder, to the top of the pants in the back. Polypropylene straps, PE strap adjusters, weighted with steel sand. Blue and black. Surface wash. Age 6+
DR4954 $24.99
B Weighted Faux Fur Vest
Kids love our faux fur vest for its stylish look and super-soft material. Removv- able weights hidden under the shoulders and interior pockets help encourage calm, focus and attention. Zipper closure. Includes 2 shoulder weights and 6 torso weights. Additional weights sold separately. Machine wash. Ages 2-12
E Weighted Pocket Scarf
Look stylish and feel calm! A fashionable, discreet weighted accessory ideal for older children. Provides 1.5 lbs. of evenly distributed weight for proprioceptive input on the shoulders and neck. Features two pockets to tuck hands and stash fidgets (sold separately). 51"L. Blue fleece. Hand wash. Age 5+
DR4957 $29.99
F Weighted Compression Belt
Can't sit still? Our belt provides calming weight and deep pressure around the hips or waist. Stretchy, breathable fabric offers compression, and removable weights can be evenly distributed in six interior pockets for proprioceptive feedback. Adjust for a tighter or looser fit with hook-and-loop closures. Includes a combination of 1/2 lb. and 1/4 lb. weights. Features loop to clip a favorite fidget. Neoprene. Blue. Hand wash. Age 3+
      WR3451 WR3453 WR3455 WR3604 WR3457 WR3459 WR3461
Small (Ages 2-4) Medium (Ages 5 -6) Large (Ages 7-9) X-Large (Ages 10-12) Small (Ages 2-4) Medium (Ages 5 -6) Large (Ages 7-9)
Zebra Zebra Zebra Zebra Navy Navy Navy
$51.99 $51.99 $51.99 $51.99 $51.99 $51.99 $51.99
DR5901 DR6245 DR6246
Small - 2 lbs. 25"-29" Hips Medium - 3 lbs. 29"-34" Hips Large - 4 lbs. 35"-39" Hips
Ages 3-8 Ages 9-13 Age 14+
$24.99 $27.99 $32.99
        C Cool Weighted TieTM
For calming weight wherever you need it most. Wear as necktie, belt or scarf. Provides proprioceptive input and sensory integration around the neck, hips or shoulders. Weight is evenly distributed throughout the tie, and soft fleece adds tactile input. 2.5 lbs. 56"L x 2"W. Blue fleece and terry cloth. Hand wash. Age 6+
SP4950 $29.99
D Pressure Mesh Vest
Keep your cool and stay calm! Breathable mesh for a comfortable fit, with pressure that offers hug-like compression through the trunk and upper body helping to calm and focus. Features hook-and-loop side closures to adjust to ideal fit and snugness. Wear all day or for intervals when sensory input is need- ed. Mesh polyester. Navy blue. Machine wash. Age 4+
G Sensory Sleeves
For soothing compression on forearms, wrists and hands, slip on these stretchy sleeves. They're like a "hug" for kids' arms, providing pressure for spe- cific periods or all throughout the day. Helps to calm, improve concentration and warm up muscles for handwriting. Smooth material appeals to sensory sensitive kids. Great for pretend play and dress up, too! Includes 2 sleeves. 9"L. Weighs 0.7 oz. Width stretches from 3" to 4.5". 100% polyester spandex. Blue. Machine wash. Ages 4-11
H Denim Weighted Baseball Cap
Top off your sensory diet! Instead of just adding weight to the brim, our cap has weights securely sewn throughout its circumference to provide even weight and a more comfortable fit. Adjustable sizing (19-23") with hook-and- loop closure. Measure around the head, just above the ears. 10.2 oz. Black cotton denim. Hand wash. Age 5+
DR5899 $19.99
         WR4516 WR4517 WR4518
X-Small (Ages 3-5) Small (Ages 6-9) Medium (Age 10+)
$32.99 $32.99 $32.99
1.800.231.6329 FunandFunction.com
*See safety information on inside back cover for details.