Page 23 - Fun and Function Catalog 2018
P. 23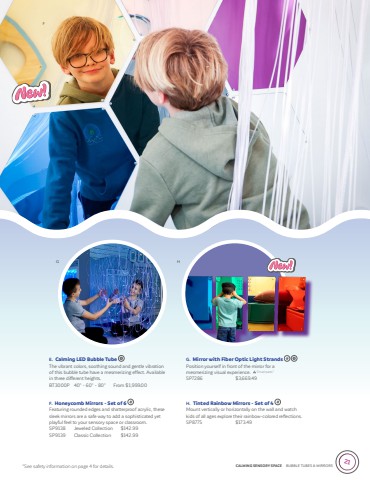 C
C
| |
C
1 1
L
L
O
O
T
T
H
H
I
I
N
N
D
G G
D
R
R
E
E
S
S
S
S
-
-
U
U
2
P P
2
 C
 
I'm loving these vests. The kids are excited to try it on and don't even realize they're
practicing their skills while playing."
SORA WOLF, OT // Vest Set
C Stretchy Super Hero Cape
It's a bird! It's a plane! It's your little superhero! Put on this stretchy cape, slip the matching mask over your eyes, and fly off to wherever your imagination takes you! The awesome yellow lightning bolt on the cape helps you channel your inner superhero. Wear with one of our weighted compression vests (sold separately) to bring in calming powers of proprioceptive input. 22"L x 38"W. Polyester and spandex. Blue. Hand wash. Ages 3-11
DR6289 $29.99
D Vest Set
Practice fine motor skills while you play! Vests have large buttons, buckles, snaps, zippers, ties and hook-and-loop clo- sures. Encourages imaginative play, socialization and motor planning. For calming proprioceptive feedback, add 1/2 lb. vest weights to interior pockets. Includes police officer and EMT vests with five weights. Vests are 18''W x 17.5''L. Chest circumference is 38"L. Elastic sides stretch up to 4"L. Heavy duty cotton-poly blend. Styles may vary slightly. One size fits most. Machine wash. Ages 3-8
D
SensaSoftTM Squeezie Seat p.50
    DR6040 Set of 2 Vests $79.97 $69.97
1.800.231.6329 FunandFunction.com *See safety information on inside back cover for details.