Page 93 - Fun and Function Catalog 2018
P. 93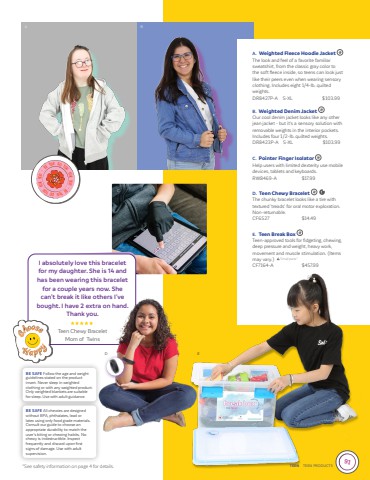 TACTILE REGULATION | FIDGETS 91
      New! A Metal Fidget Ring-Set of 2 This fidget is super smooth and cool to the touch. Roll the small metal shapes around the ring
to release tension and engage restless fingers. Includes 2 rings. Each weighs .5 oz. Metal ring has 1" Diameter. Bolts have .33" Diameter. Stainless steel. Surface wash. Age 5+
CF6961 $9.99
New! B Ribbon Push and Pull Cube Pull a ribbon and watch it move through the cube. Where will the other end of the ribbon appear? All six sides of the cube feature openings with many colorful ribbons. This engaging, tactile tool helps kids attend and focus. Encourages fine motor, visual tracking and sensory skills. 1 lb. 8 oz. 5.5"L x 6"W. Polyurethane-covered acrylic cube, polyester ribbons and nickel-coated metal grommets. Blue cube. Ribbon color varies. Surface wash. Age 3+
Small parts* CF6988 $63.99
New! C Key Chain Fidget
Fidget quietly and discreetly with this mini sensory tool. Roll the rings round and round for tactile fidgeting and fun. Features overlapping rings of different sizes and textures to engage sensory seekers, over responders and avoiders. Compact size travels easily. 1 oz. 2" Diameter. Stainless steel with blue silicone. Surface wash. Not for mouthing. Age 5+
CF6833 $9.99
New! D Wooden Fidgets
Need to soothe tired muscles, wake them up or even calm down? Roll across your forearms, legs and back for sensory input. Includes two all-wood fidgets, one with ball shapes at each end (1.25 oz.), and the other with cylinder shapes (.8 oz.). 4"L x
1" Diameter at widest point. Natural birch. Surface wash. Age 4+
CF6980 $24.99
New! E Fidget Spinner
Collection
Playful designs for every age! Spin on the table or in your hand to help focus, release stress and channel excess energy quietly. Compact size fits easily in a pocket or bag. Includes travel tin. Each fidget spinner sold separately. Classic: 2.75" Diameter, blue, ABS plastic shell with steel bearings; Clover: 2.5" Diameter, silver, aluminum; Panda: 2.9" Diameter, black, white & silver, zinc alloy; Patriotic: 2.6" Diam- eter; red, white & blue, aluminum; Surface wash. Age 4+ Small parts*
CF6809 Classic $5.99 CF6849 Clover $11.99 CF6850 Panda $11.99 CF6851 Patriotic $11.99
New! F Fidget Pad
Fidget quietly, without distracting others. This pocket-sized fidget features buttons of varying sizes and shapes to engage restless fingers. Press the smooth silicone buttons to practice fine motor work and to help ease anxiety. 2 oz. 2.9"L x 1.4"W x 1"D. ABS Plastic with silicone buttons. Black with blue buttons. Surface wash. Age 4+
CF6852 $13.99
New! G Nuts and Bolts Fidget
Rod
Twist, fidget and problem solve. Brightly colorr- ed pieces engage hands and attention. Hard- ware twists up and down the threaded bolt. Helps keep restless fingers busy while building fine motor control. 4 oz. 4.75"L x 1.75"W. Plastic nuts and bolts with wooden beads. Colors vary. Surface wash. Not for mouthing or chewing. Age 4+       Small parts*
CF6857 $11.99
J
New! H Fidget Finger Puzzle
Set
Challenge your brain and your fingers! Interlocking puzzles encourage focus, visual processing and fine motor control. Each of the pocket-sized fidgets is a cognitive game. Try
to figure out how to unlink the pieces, then put them back together again. Need a hint? Includes 8 puzzles with instruction card to help you learn how to solve each one. 4.5 oz. 1"L to 2.5"L. Metal. Surface wash. Age 4+
MS6984 $12.99
New! I Secret Pal
This friendly animal companion features gentle weight, super smooth "scales" and a secret compartment for your fidgets! Place
on your lap, back or shoulders for just a bit of weight and proprioceptive input. Hide coins, buttons and small fidgets (not included) inside his mouth. Zip his mouth open and closed
for fine motor work. 1 lb. 5 oz. 22"L x 13"W x 6.5"D. Polyester and spandex. Weighted with polypropylene plastic pellets. Green body with red mouth. Surface wash. Age 4+
SP6843 $55.99
New! J RolleaseTM
These small, discreet fidgets fit in your pocket or palm. Roll between your fingers, across your hands and along you arm for a soothing massage sensation. Rolling and manipulating the balls helps to build hand strength and fine motor skills. Set of 3 weighs 1.2 oz. 1" Diam- eter with 3" circumference. ABS plastic. Blue/ Red, Red/Orange, Orange/Blue. Surface wash. Age 4+ Small balls*
CF7000 $15.99
                              1.800.231.6329 FunandFunction.com
*See safety information on inside back cover for details.