Page 91 - Fun and Function Catalog 2018
P. 91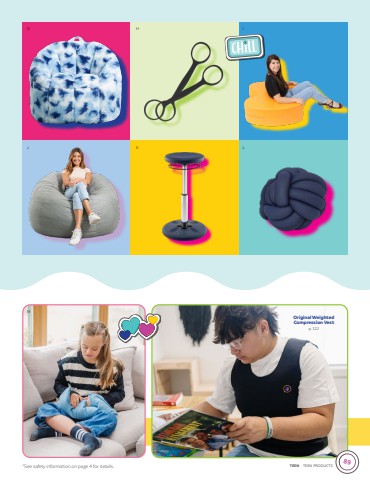 TACTILE REGULATION | FIDGETS- MARBLE 89
  EF
   A Marble Finger Fidget Set
Feeling fidgety? Manipulative fidget sleeves feature marbles sewn inside stretchy material, providing an engaging outlet for fingers. Work the marbles up and down the sleeves with your fingers for heavy hand work
and fine motor training. Use to warm up fingers for handwriting. Weighs
2.2 oz. Includes 12"L fidget with 6 marbles and 2.5"L fidget with 3 marbles. Spandex and nylon sleeves with silicone marbles. Blue. Surface wash. Age 4+
B Denim Marble Maze
When fidgety fingers need a productive outlet, this maze keeps kids engaged and encourages fine motor work. Find the marble hidden inside with your fingers, then push it through the maze and back again. Ideal for fine motor practice, visual processing, sensory seeking and just to keep busy! Take it along on long car trips for when kids get antsy. 11 oz. 7"L x 8"W. Cotton denim. Color may vary. Surface wash. Age 4+ Small marbles*
CF6536 $12.99
C Busy FingersTM Marble Maze Kit
This portable maze set will a-maze you! Each soft and fuzzy maze is filled with pellets and a marble. Move the marble back and forth throughout the maze and around the pellets to focus and engage. Set weighs 3 oz. Includes 2 maz- es. Green maze is 7"L x 3"W. Blue maze with red stitching is 9"L x 4"W. Plush polyester. Surface wash. Age 4+ Small marbles*
CF5932 $13.99
D Round Plush Maze
A quiet, engaging activity for fine motor work. Keep fingers busy when stressed, bored or seeking sensory input. Use your fingers to find the marble hidden inside the plush, fuzzy maze, then push the marble through and back again. Encourages finger isolation in occupational therapy, at school or when traveling. 7 oz. 7" Diameter. Plush polyester. Green. Surface wash. Age 4+
Small marbles* CF6535 $12.99
New! E Soft Fidget Bracelet-Set of 2
Accessorize with the wearable fidget that engages busy fingers. Features enclosed flat bead and squishy pellets. Push the bead through the bracelet to build fine motor skills. Includes 2 bracelets. 1.4 oz. each. 10"L x 1.5"W with hook-and-loop closures to adjust fit. Polyester, enclosed plastic pellets and flat bead. Gray and blue. Surface wash. Age 6+
CF6789 $24.99
New! F Marble Tracker
There are so many fun ways to play and explore with this multi-sensory tool for visual, tactile and auditory feedback. Tie it in a knot, or stretch it out. Watch, feel and hear the marble make its way through the tube. 3.8 oz. Includes 1 tube (6'L x .75" Diameter) and 2 marbles (.62" Diameter). CPAP Tubing made from latex-free plastic, glass marbles, wood birch ends. Trans- parent tube. Marble color varies. Age 4+ Small marbles*
MW7036 $42.99
          Small parts*
                       1.800.231.6329 FunandFunction.com
*See safety information on inside back cover for details.