Page 95 - Fun and Function Catalog 2018
P. 95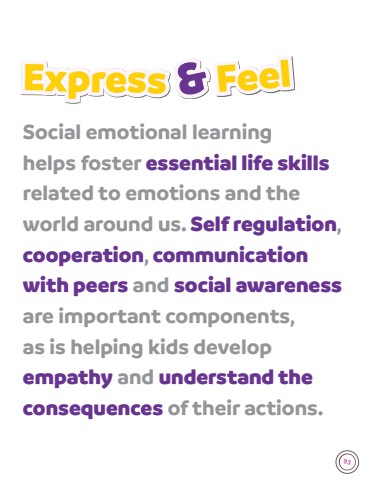 GJM
HKN
ILO
              New! G Bubble Ball
Feeling stressed? Give this hand-sized fidget a good squeeze! Or roll it on your arms and legs to wake up your muscles. Raised bumps encourage tactile exploration, and the flexible material bounces back when you squeeze the ball. 8
oz. 3"L x 3"W x 3"D. Thermoplasticized rubber (TPR). Designed without BPA and latex. Blue. Surface wash. Age 4+
CF6858 $10.99
H Digi Squeeze- Set of 5
Textured foam balls for a fun hand workout. With grooves for each finger, these balls help develop isolated finger strength, flexibility and coordination. Use before handwriting to warm up the intrinsic hand muscles and forearms. Each color has a different resistance to strengthen low tone and for heavy handwork.
5 balls with exercise guide. 4" Diameter. Red, yellow, green, blue and black, x-light to x-heavy. Use with adult supervision.
CF4929 $27.99
I Bug-Out Bob
Stressed out? Don't bug out. Let Bob! Squeeze the soft, pliable fidget to relieve stress and watch his eyes, nose and ears pop out! A fun way to relax, build hand and finger strength, and learn about cause and effect. 4.5" tall. Contains latex. Age 3+ Small parts*
HS1325 $7.99
J Stressless Fidget Balls
Squeeze the stress away! Use these squishy mull- ti-sensory balls to work on fine motor control and intrinsic hand strengthening. Squeeze the green ball to hear a 'crunchy' sound, like waves crash- ing on a beach. The blue ball makes no noise, perfect for when silent fidgeting or stress relief is needed. Balls are 5 oz. and 4 oz. 3.75" Diameter. Spandex. Surface wash. Blue and green. Age 3+
CF6533 $12.99
K Fidget Key Chain Balls-3 Pack
Fidget and feel tactile textures to channel stress and keep fingers busy. Each ball has a different filling: sand, pellets and tiny balls. All have an at- tached keychain to hook onto a belt loop or back- pack. Not for mouthing. 3" Diameter. Surface wash. Color may vary. Age 3+       Small parts*
SP4775 $26.99
New! L Starfish Ball
A squishy sensory ball with raised bumps and star shapes to engage fingers and encourage tactile exploration. Helps to de-stress, calm and practice fine motor skills. Use as a travel ball or to wake up hands before handwriting or keyboarding. 8 oz. 3"L x 3"W x 3"D. Thermoplasticized rubber (TPR). Designed without BPA and latex. Pink. Surface wash. Age 4+
CF6859 $10.99
M Fidget Balls-3 Pack
Squeeze, toss or catch these visually enticing balls for sensory processing and tons of fun. They feel squishy and have different textures inside. Use to practice hand-eye coordination, encourage tactile exploration and relieve stress. Not for mouthing. Clear with red sand; Clear with red, yellow and blue pellets; Clear with yellow, red and green balls. 8 oz. each. 3.5" Diameter. PVC. Surface wash. Age 3+ Small parts*
SP6139 $32.99
N Happy Harry Fidget FriendTM Goodbye stress, hello calm! Squish Harry, feel his hair for tactile exploration, roll him around in your hands or toss him around with your friends. He'll help you get focused before test taking or home- work. Weighs .8 oz. 3" Diameter. Foam. Yellow and black. Surface wash. Age 4+
CF6791 $8.99
New! O Grab It Balls-Set of 2
An early learning and sensory integration tool even your youngest kids can enjoy. Balls feature
a peg-like surface that encourages grasp and tactile exploration. Safe to bite and chew! Use for oral motor activities, during therapy or as a fidget tool in the classroom to encourage focus. Includes 2 balls. Each weighs 1.4 oz. 3"L x 4"W x 4" Diam- eter. PVC. Orange and purple. Surface wash. This item is not returnable. Age 0+
SP6995 $7.99
                               TACTILE REGULATION | FIDGETS- BALL 93
  1.800.231.6329 FunandFunction.com
*See safety information on inside back cover for details.