Page 98 - Fun and Function Catalog 2018
P. 98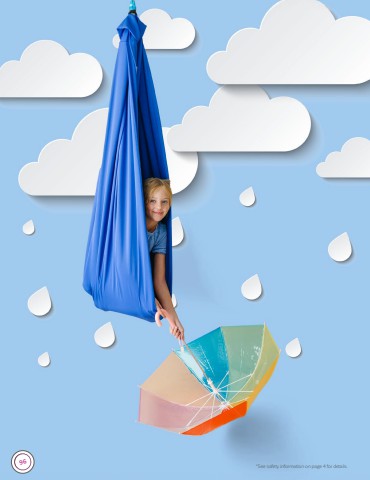 96 TACTILE REGULATION | WEARABLE FIDGETS AB
New! A Fidget Fringe
Bracelet-Set of 2
Soft, smooth fringes silently provide calming tactile input to hands and fingers, helping to improve focus without disrupting those around you. Includes 2 fidgets. Each weighs .6 oz. 3" Diameter stretches to 7". 5"L fring- es. 93% polyester, 7% spandex. Purple and black. Surface wash. Age 4+
CF6994 $17.99
B Hairy Tangle Jr-Set of 3 Feeling antsy? This sensory manipulative bracelet is soft and squishy. It bends, turns, squiggles, snaps (and unsnaps) and moves. Engages hands and fingers, helping the mind to focus. Use as a fidget and to build hand muscle strength. 7"H x 0.5"W x 2"L. Colors may vary. Age 3+
SP4888 $21.99
New! C Sensory Fringe-y
Bracelets-Set of 4
Wear these wiggly and jiggly fidgets as bracelets or anklets. Soft, squishy "tenta- cles" provide sensory stimulation and tactile input. Wear as a funky fashion statement
or use as a tactile toss toy. 2-4" inner diameter, 4-8" outer diameter. 2.5 oz. each. Latex-free. Blue, purple, orange and green. Surface wash. Age 4+
SP7101 $19.99
D TherapyTangle
Twist and turn the tangle to quietly help relieve anxiety, strengthen hands and keep fingers busy. Features 20 interconnected plastic pieces covered with soft rubberized material. Latex-free. Blue, purple and green. Age 3+
    Small parts*
       CD
EF
Small parts* SP5864 $12.99
               New! E Squishy Ball Bracelet-
Set of 4
Bracelet with squishy balls provides nice tac-c tile feel for calming and organizing. Pinch, pull and explore the colorful koosh-like balls with your fingers. .75 oz each. 2.75" Diame- ter. Thermoplastic Rubber (TPR). Multi-color- ed. Surface wash. Age 4+
SP6964 $9.99
F Fidget Backpack
A fidgeter's paradise! Coils, webbing, toggles and textured patches help satisfy sensory needs. Snaps, buckles, and loops strengthen fine motor skills, and shoestrings provide practice for tying shoes. Weighs 5 oz. 12.5"L x 11"W with 8.5"W x 5"D outer pocket and side mesh pocket for water bottle. Straps adjust from 14" to 28"L. Polyester with ribbon, cotton string, coil, plastic and metal grommet attachments. Blue with green trim. Surface wash. Ages 3-8
  Small parts* CF6551 $49.99
   1.800.231.6329
FunandFunction.com
*See safety information on inside back cover for details.