Page 37 - Fun and Function Catalog 2018
P. 37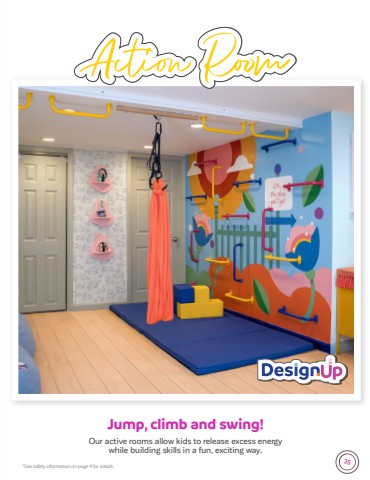 ACTIVEMIND PARTNERSHIP | CHILLSPA 35
    Raindrop Swing p.122
E
 E Aurora Projector with Wheel Rotator
Project colorful, visual scenes onto your wall to create a calming envii- ronment, provide visual stimulation and help filter sensory overload. Projector can be wall-mounted or placed on a table. LED lamp projects high-quality images noiselessly. Long-lasting and low-maintenance. Op- erates on low voltage with transformer (included). Requires a standard 110V AC outlet. Requires Effects Wheels, themed projector wheels that display moving images such as outer space, the sky and the jungle (sold separately online). Projector weighs 7 lbs. and is 16"H x 10"L x 7"W. All ages.
EX6828 $999.99
F Cloud Chair
Feel the sound! Combines vibration and music for a stimulating experii- ence that can help kids feel more relaxed and at ease. Bean filling offers extra tactile input. Connects to stereo systems rated 20 to 200 total watts of power, though SomatronTM stereo is recommended (available online). 1 year warranty. Weighs 30 lbs. Holds children up to 100 lbs. 35"H x 30"W x 30"L. Durable marine vinyl.
F
     VS4246 VS4341 VS4342 VS4576
Peacock Green Amethyst Purple White Tie
South Pacific Blue
$1,699.99 $1,699.99 $1,699.99 $1,699.99
    1.800.231.6329 FunandFunction.com
*See safety information on inside back cover for details.