Page 55 - Fun and Function Catalog 2018
P. 55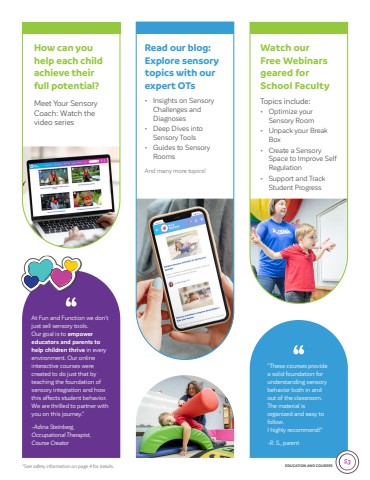 SEATING | BALL SEATING 53
 G Peanu
 G
 H
t Ball
    Our amazing Peanut Ball supports the need for movement while encouraging an active learning posture. It's a perfect saddle seat for children who need more stability than a traditional ball chair or therapy ball. Kids can straddle the contoured center for a stable seat or sit on it like a bench to challenge balance. Use in the classroom for sitting, as a bolster for exercise or as a tool for bouncing. Shaped for forward and back rotation. Inflates with air pump (sold separately). Holds up to 750 lbs. PVC. Designed without BPA, phthalate and latex. Age 3+
I
   BL3450 BL3436 BL3437 BL1875
Small parts* Green S 14"H x 28.5"L
$29.99 $34.99 $36.99 $38.99
Yellow M 15.5"H x 30"L Red L 18.5"H x 36"L Blue XL 20"H x 38.5"L
     New! H Therapy Ball Cover
Add texture and tactile interest to your therapy ball. Made from super smooth faux fur, this cover brings a comfy, soft-to-the-touch feel to any 24" therapy ball (sold separately). Explore the soft top with your hands. Enjoy as a soft seat for working at your desk. Weighs 13 oz. 31"L x 32"W. Polyester. Navy blue. Machine wash. Age 4+
SP6714 $89.99
New! I Ball Cushion
Part ball cushion, part wiggle seat! Encourages weight shifting and movee- ment to sharpen focus. A bit heavier than most seat cushions, so you can also place the lightly weighted cushion on your lap for calming propriocep- tive input. 3.5 lbs. 16"L x 11"W x 2"D. PVC balls and polyester rope. Surface wash. All ages
SP6987 $119.99
J QuietFidgetforFeet
Can't stop tap dancing under your desk? Wrap these stretchy resistance bands around the front legs of a chair. Provides an outlet for feet to fidget while seated. They're virtually noiseless, reducing distraction to others. Bands can also be used for stretching, movement and heavy work activities to promote learning and concentration. Includes six yards of each band, which range from xx-light to heavy resistance: yellow, red, green, blue and black. Age 4+
MW6064 $62.99
New! K Chair Fidget for Feet
Feet feeling antsy? Just slip the loops around the legs of any standard school chair. Remains quietly hidden underneath your desk. Great for classrooms or home study, providing a productive outlet for restless energy. Weighs .8 oz. 9"L (stretches up to 16"L) x .5"W x .125"D. 2" Diameter loops stretch to fit around chair legs. Silicone. Orange. Surface wash. Age 5+
MW6821 $14.99
JK
            1.800.231.6329 FunandFunction.com
*See safety information on inside back cover for details.