Page 57 - Fun and Function Catalog 2018
P. 57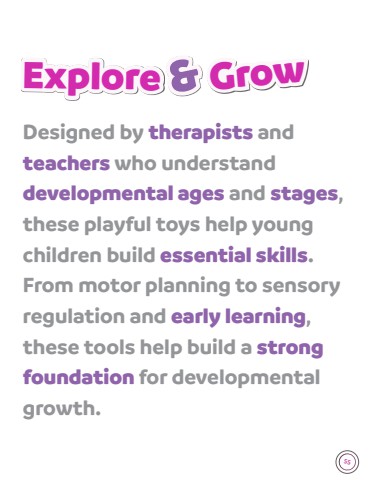 L
SEATING | CUSHIONS 55
  IK
     J
M
K Teen Gel Cushion
Use as a wiggle cushion during seated activities to help improve focus. Enjoy the sensation of a smooth ride on the water as the gel moves so gently under your bottom. Flexi- ble enough to be used as a fidget and squished, twisted or folded. Weighs 3.5 lbs. 11" Diameter and .75" thick. Silicone gel-filled PVC. Green. Surface wash. Age 3+
SP6746 $39.99
L&M Squishy Gel Cushion
Our squishy gel-filled cushion lets kids wiggle while staying in place to improve their concentration and attention skills. Perfect for sensory input during circle time, dinnertime, school work, test taking and more. Use as a seat, mini
lap pad, fidget tool or even as a weighted frisbee. Not for mouthing. Choose from Bumpy Gel (tiny balls inside offer tactile feedback) or Fishy Gel (floating fish inside for manip- ulation). No inflation required. 9" Diameter and .5" thick. PVC. Latex-free. Surface wash. Age 2+
CF4635 Fishy Gel (L) $24.99 CF4636 Bumpy Gel (M) $24.99
   Blue Square
Soccer Ball
Plushy Jelly
Orange Circle
Furry Cow
  I Emotions Cushions-Set of 8
Fun faces for learning emotions! Versatile for any environment, these cushions can be used as seating, to practice color recognition and to help identify facial expressions that represent feelings. Use to find your spot during circle time or as stepping stones. Includes 8 cushions. Each weighs 6.8 oz. 3"D x 11.75"Diameter. PVC and foam. Red, orange, yellow, light green, dark green, light blue, dark blue and purple. Surface wash. Age 1+ Small parts*
CM6704 $189.99
J Senseez Pillow
Calm the wiggles during meals, storytime, homework, car rides and before bedtime. Squeeze or sit on the lightweight pillow, and it begins to quietly vibrate to help filter overstimulation. Vibrates for a minimum of 30 continuous hours. Requires 2 AA batteries (not included). Blue square for chairs, orange circle for booster seats, furry cow with a tail for extra tactile, plushy jelly with eight tentacles for sensory and soccer ball for soothing vibration. Surface wash
the blue, orange and soccer ball. Machine wash gentle the furry cow and plushy jelly covers. Round cushions are 3"D and 9.5"Diameter. Square Cushion is 10"L and 10"W. Age 3+
         CF4938 MW6584 CF6092 CF4939 CF4940
Blue Square Soccer Ball Plushy Jelly Orange Circle Furry Cow
$34.99 $34.99 $34.99 $34.99 $34.99
1.800.231.6329 FunandFunction.com
*See safety information on inside back cover for details.