Page 59 - Fun and Function Catalog 2018
P. 59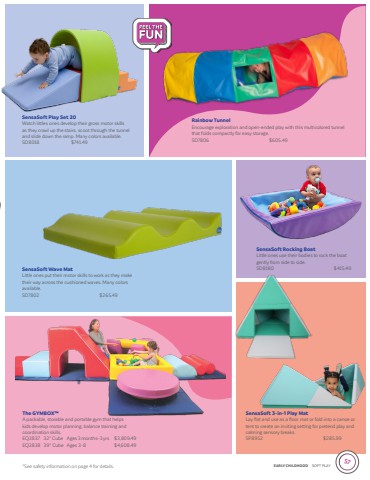 Mini Mushy Smushy 13"
SEATING | BEAN BAGS 57
  E
    EE
F
 Mushy Smushy 17"
 Awesome! My kids both love everything about it.
Lightweight and doesn't take a lot of space.
LISA, MOM // Mushy Smushy Bean Bag Chairs
D Jaxx Lounger Jr
It's like sitting on a big comfy cloud! This foam-filled bag is shaped like a giant bean and provides calming sensory input that kids crave. Use as a soft spot to read and chill or place under swings or ladders to give kids a cushy spot to land. Cover unzips for easy washing. Vacuum packed. Some assembly required. More colors available online. Weighs 19 lbs. 46"L x 34"W x 26"H. (Deeper than the Jaxx Cocoon Jr.) Machine wash the cover. Age 6+
EQ4456 Blueberry $124.99
E Mushy Smushy Bean Bag ChairsTM
You may never want a regular chair again! Super light and portable, the bean bag shape supports back and hips for comfortable seating. Sand-like stuffing appeals to kids who need to wiggle and to all who crave tactile stim- ulation. Toss for heavy work or use as a landing pad for crashing. Catch and throw to strengthen bilateral coordination. Green holds up to 75 lbs. and weighs 8 oz. Blue holds up to 150 lbs. and weighs 12 oz. Orange holds up to 150 lbs. and weighs 1 lb. Spandex and filled with small pellets. Surface wash.
Mega Mushy Smushy 24"
  CF6133 CF4584 CF6726
Mini Mushy Smushy 13" Mushy Smushy 17"
Mega Mushy Smushy 24"
Green Blue Orange
$31.99 $66.99 $74.99
    EQ4458 Cherry EQ4459 Grape
$124.99 $124.99
New! F Tough Textured Beanbag Chair
Crave pressure and can't keep your hands still? This beanbag chair has texx- tured pockets for added tactile interest. Elastic loops inside the pockets offer additional sensory input and pressure. Kids can move their hands inside and out of the loops as they read, relax or watch TV. Stash fidgets (sold separate- ly) inside the pockets. 5 lbs. 34"L x 37"W x 42"D. PVC upholstery with 100% polyester fiber filling. Black. Surface wash. Age 4+
SP7062 $199.99
  1.800.231.6329
FunandFunction.com
*See safety information on inside back cover for details.