Page 74 - Fun and Function Catalog 2018
P. 74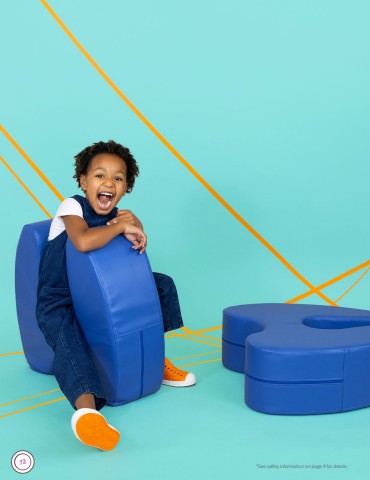 72 CLASSROOM HELPERS | READING/WRITING A
Wipe Clean! Weighted Lap Pad with Blue Faux Fur Slipcover
Noise Reduction Headphones
     Ergo-RiteTM Reading Board
Mushy SmushyTM Bean Bag Chair
   A Read and Learn Kit
A kit full of sensory tools to help settle wiggly bottoms and focus easily distracted students. Conn- tains our top therapist tools to encourage concentration in the classroom: Mushy Smushy Beanbag Chair for a comfy seat; Wipe Clean! Weighted Lap Pad for calming proprioceptive input; blue faux fur Lap Pad Slipcover for tactile input; Noise Reduction Headphones to reduce auditory distractions; and Ergo-Rite Reading Board to encourage proper reading posture. 12"H x 15"W x 4"D. Adjustable angle. Folds flat for transport and storage. Wood with bungee strap to hold book in place. (Board also sold separately.) Age 3+
   B C
CF6014 Read & Learn Kit
RW4529 Ergo-Rite Reading Board
$210.95 $189.99
$69.99
 B Travel Slant Board
Features a 20 degree angle to help reduce strain on shoulders, arms and hands during writ- ing. Plastic clamps hold paper securely and non- slip feet keep board in place. Folds compactly
to .75 thick for travel and easy storage. 12"W
x 12.5"H. Durable corrugated plastic. Surface wash. Age 4+ Small parts*
HW1449 $23.99
C Ergo-Rite Slant Board for
Writing - Large
Our durable slant board has a 20 degree angle to maximize writing success and help improve posture as you write. Promotes proper hand and wrist positioning, fine motor skills and visual tracking. Large metal clip keeps papers in place. Features handle for easy portability. 14"L x 15"W x 4"H. Lightweight plexiglass. Green. Made in USA. Surface wash. Age 4+
RW4514 $64.99
More slant board options available at FunandFunction.com
D Slant Boards
A simple yet effective tool that puts the wrist and forearm at a proper 20 degree angle. Helps to reduce shoulder and arm fatigue, encourage better posture and make reading and writing more comfortable. Sturdy metal clip holds papers in place. Large: 15"L x 13"W Compact: 13.5"L x 9"W. Lightweight plexiglass. Color may
    vary. Surface wash. Age 4+ HW7077 Large $54.99 HW7076 Compact $46.99
Small parts*
       Large
D
Compact
E Desktop Study Carrel
A cost-effective tool for classrooms that helps eliminate visual distractions so kids can focus. Creates a private space for students to write and work on small projects. Sets up in seconds and folds easily for storage. Kids can even personalize it with their own markers or stickers. Use with Noise Reduction Headphones or our Wiggle Cushion (sold separately) to further support concentration. 13"H x 17"D x 20"W. Corrugated cardboard. Age 3+
CF5683 $5.99
  1.800.231.6329
FunandFunction.com
*See safety information on inside back cover for details.