Page 77 - Fun and Function Catalog 2018
P. 77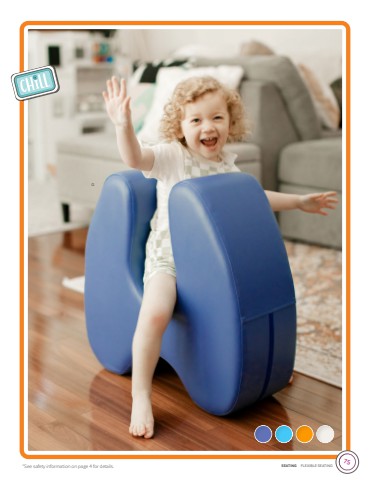 REGULATION | TENTS 75
  A Explorer Dome-Small
Just the right size for one! A cozy spot to map out adventures, read or just relax. Easy and quick assembly with two fiberglass poles and pole sleeves. Suitable for indoors or outdoors. Features one large door, 2 windows and a vent for airflow. 3 lbs. 5" x 5". 34"H interior. Color may vary. Age 3+
EQ4137 $23.99
B Willow Tree Bower
Create a magical play area, homework nook or quiet space to yourself with this forest-themed canopy. Its leafy green "branch- es" enclose kids in their own magical forest, while still providing enough visibility for parents and teachers to see through. Plug in the LED lights for a calming effect. Recommended for indoor use. Can temporarily be hung outside, but should not be left outside during inclement weather. Includes fabric hideaway with leafy green and brown netting and 20'L string of lights. 7'H x 2' Diame- ter. Hoop has 12' bottom circumference. Green and brown. Adult assembly and installation required. Age 3+
CF7079 $119.99
C Teepee & Lights
Get ready for the most amazing backyard camping trip ever! Set up the teepee indoors or out to create a private cozy nook where kids can hide away. Interior has enough space for 2 to 3 children to play, imagine and adventure together. Made from heavy-duty flame retardant and mildew resistant cotton canvas. 7'H x 5' Diameter. Create a starry campout experience and set the mood to calm. Plug-in LED lights (sold separately) are encased in plastic tubing. Includes six light strings, one to line each pole.
CF7081 Teepee lights $29.99 CF7080 7' Teepee $159.99
D Galactic Bed Tent
Sleep in space! This cosmically cool bed tent opens a whole new universe of play. Cozy dark blue interior has shiny silver stars and starburst LED light. Creates an enclosed space that helps children feel safe and secure, with 4 windows and 2 doors for ventilation and visibility. Base fits a twin-sized mattress. Measures approx. 6'L x 3.25'W x 5'H. UL connector included. Age 5+
CF7099 $149.99
C
A
B
  D
 1.800.231.6329 FunandFunction.com
*See safety information on inside back cover for details.