Page 85 - Fun and Function Catalog 2018
P. 85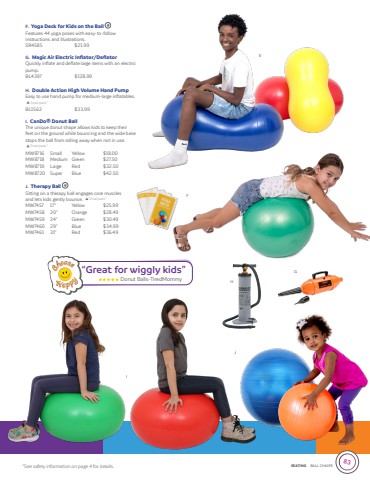 F
REGULATION | AUDITORY PROCESSING 83
      F Noise Reduction Headphones
Noisy places like lunchrooms, sporting events, airports or birthday parties can be overwhelming for kids with auditory defensiveness or sensory challenges. Help filter distracting noise, reduce anxiety and boost concentration with these kid-sized headphones. Headphones still allow kids to hear nearby conversations and participate in their surroundings. The lightweight yet powerful headset muffles extraneous noise up to 20 decibels. Dimensions 6.5"L x 5"W x 4"D (fold- ed). Weighs 6.6 oz. Plastic, metal and foam. Blue or orange with smile graphic. Surface wash. Air dry. Age 2+
SP6271 Blue $25.99 SP7031 Emoji $26.99
G HamiltonBuhl Noise Off
This noise-blocking headset is mightier than it looks! Lightweight, slim and comfortable, HamiltonBuhl Noise Off is extremely effective at minimizing auditory stimulation to improve concentration. Set up with three simple steps to instantly block out abrasive background noise and distrac- tions. Folds to fit comfortably in a shirt pocket or purse. 1.3 oz. 7"L x 7"W x 1"H. Plastic. Age 10+
F
     FG
    SR3988 SR3989 SR5986
Blue Black Green
$22.99 $22.99 $22.99
1.800.231.6329
FunandFunction.com
*See safety information on inside back cover for details.