Page 128 - Fun and Function Catalog 2018
P. 128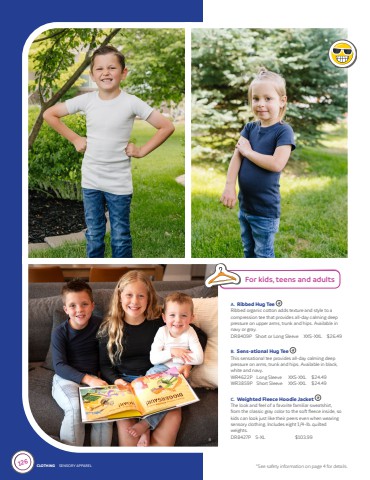 126 VESTIBULAR REGULATION | SWINGS
A
Hammock Swing sold separately
C
B
 A Mediterraneo Stand
Hang out right in your living room! This space-savv- ing stand supports single point therapy swings and chairs. It's also height adjustable so you can raise or lower your swing to fit your space. Compatible with the Currambera Hammock Swing Lounger and Orquídea Hammock Chair (sold separately). Weighs 71 lbs. Holds up to 285 lbs. 47"H x 20"L x 6"W. Powder-coated steel.
CF6670 $249.99
B Orquidea Hammock Chair
This comfy and colorful hammock-style chair is roomy enough for both adults and older kids. Supports active swinging and gentle rocking. Hang from single suspension point or frame such as the Mediterraneo Stand (sold separately). Rotates 360 degrees with integrated swivel. Weighs 4.6 lbs. Holds up to 287 lbs. 61"H x 55"L x 41"W. Spreader bar is 43"W. Durable, tear-proof cotton is machine washable. Bamboo bar. Choose from jungle (green stripes) or lagoon (blue stripes).
C Hammock Swing
Enjoy the full-body hug of this Hammock Swing, large enough to hold a parent, too! Provides sensory input with a gentle back-and-forth or side- to-side motion. Helps to calm and build tolerance for movement. Use carabiner (sold separately) to suspend from single-point suspension or swing frame. Weighs 12 lbs. Holds up to 250 lbs. 39"L
x 23"W x 30"H. Suspension height of 4' recom- mended. Polyester ropes, durable fabric with palm tree pattern, varnished dowels and stainless steel hardware. Age 2+
D Currambera Hammock Swing
Lounger
This hammock-style chair is weather resistant and strong enough to hold 2 people so you can enjoy swinging with your child. Provides simultaneous proprioceptive input and vestibular therapy as you sit and swing. Hang from a single suspension point with a carabiner (sold separately). Holds up to 360 lbs. Weighs 7.5 lbs. 71"L x 55"W x 73"H. Sturdy spreader bar is 4'7. Suspension height of 7'3 rec- ommended. Blue. Machine wash. Age 3+
EQ4149 $139.99
E Net Swing
Get a gentle hug while you swing! Offers light pressure around the entire body for a snug, secure feel while you swing, read or just relax. Stretchy material expands to support children, teens and adults, making it a versatile sensory tool for all ages. Holds up to 150 lbs. 50"H (from swing hook to bottom) and 88" long (front to back stretched out). Age 4+
VS6668 $64.99
           MW6185
$194.99
     CF6672 Lagoon - Wild Blue CF6673 Jungle - Lime Green
$99.99 $99.99
     1.800.231.6329 FunandFunction.com
*See safety information on inside back cover for details.
Hardware not included unless otherwise noted. Professional installation recommended.
BE SAFE
Inspect equipment regularly for wear and tear or improper fit and replace as needed. Extend protective flooring and maintain a minimum clearance of 6' around the perimeter of swings. Use with adult supervision.