Page 126 - Fun and Function Catalog 2018
P. 126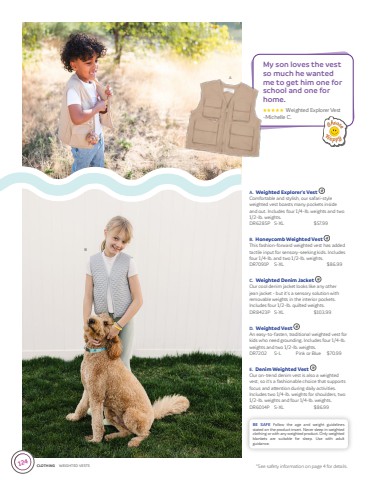 1.800.231.6329 FunandFunction.com
*See safety information on inside back cover for details.
124 VESTIBULAR REGULATION | SWING HARDWARE
   A
B C
   A Two-to-One Swing Converter
Hang your 2-point swing or chair from a single ceiling hook. Simply attach this converter and you'll instantly have two hooks for your swing. Includes carabiner to attach the 2-to-1 converter to your ceiling hook. Hangs 28" from your ceiling hook. Eye-hooks are 21" apart. Holds up to 150 lbs. For adult use.
 Small parts* SP4660 $99.99
        Textured Platform SwingTM sold separately, p. 122
B Multi-Point Ceiling Swing Suspension Kit Securely install single-point and 2-point suspension swings in your home. The single-point loop even has a built-in swivel to provide 360-degree ro- tational spin. Compatible with wooden ceiling beams only. Once installed, your wooden beam will remain exposed. 36"L x 6"W. Eye-hooks are 29" apart. Holds up to 200 lbs. For adult use.
SP4618 $139.99
C 2 x 6 Ceiling Beam Swing Suspension Kit
This kit enables you to safely suspend single-point therapy swings from an exposed wooden beam, typically in the basement or attic above your sheet rock. Made in USA. Includes hardware and directions. Compat- ible with swing swivel and carabiners (sold separately) for 360-degree spin. Only for a 2 x 6 beam or larger. Holds up to 500 lbs. For adult use.
Small parts* SP4624 $109.99
Small parts*
             BE SAFE
Professional installation recommended. Swings are not included with hardware. Please check equipment regularly for wear and tear or improper fit. Use with adult supervision.