Page 129 - Fun and Function Catalog 2018
P. 129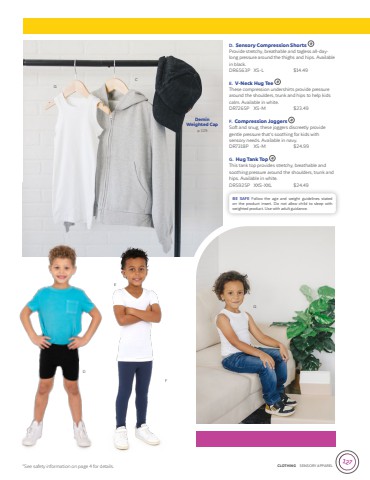 D
E
VESTIBULAR REGULATION | SWINGS 127
F Iri Rainbow - Cotton
Hammock Chair for Kids
A soothing spot for kids to relax, read or chill out. Safety features include closed-weave suspension instead of hammock cords and an integrated swivel for 360-degree rotation. Holds up to 175 lbs. Weighs 2 lbs. 3"L x 3"W x 28"D. Cotton fabric chair with bamboo spreader bar. Multi-colored. Machine wash. Ages 3-9
CF7016 $69.99
G Soft Comfort Swing Chair De-stress and rock away the blues! This comfy chair swings gently back and forth to provide soothing sensory input. Suitable for indoor or outdoor use. Intended for home use. For light swinging only. Use carabiner (sold separately)
to hang from a tree, swing stand or single point suspension. Comfortable, foam-filled fabric on
seat and back is weather resistant. Rope cords are mildew resistant. Holds up to 275 lbs. 26"W x 22"D x 29"H. Suspension height of 3'9" recommended. Striped blue. Made in USA. Age 5+
VS4157 $119.99

This hammock was easy to install and very comfortable to lounge on...and can handle my wife and twin 4 year olds. Worth it." HAPPY SECOND GENERATION ON AMAZON // Hammock Swing
       FG
 1.800.231.6329 FunandFunction.com
*See safety information on inside back cover for details.