Page 153 - Fun and Function Catalog 2018
P. 153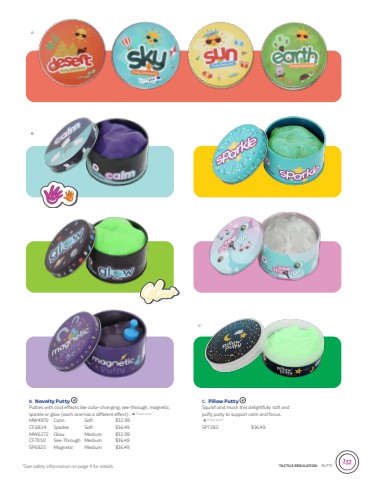 PROPRIOCEPTIVE REGULATION | HOME HABITATS 151
  Habitat for
Under Responder
Our Habitat for Under Responders energizes with sensory input, balance and motor planning activities. Age 3+
Trampolines, p.141
Crash Mat and Cover, p.142 Peanut Balls, p.53
Air-Lite Tire Swing, p.120
LED Chair, 13" LED Cube, p.37 Set of 4 Gel Floor Tiles, p.39 Adjustable Double Trapeze Bar Swing, p.122
Air-Lite Ball Pit and balls, p.46 Adaptive Climbing Wall, p.44 Cozy Canoe, p.38
Vibrating Bee, p.100
 s
    Habitat for
Over Responders
Our Habitat for Over Responders is like a roomful of calming hugs. The deep pressure and weighted activities gently guide kids to self-regulation. Age 3+
Sensory Corner Package, p.32 Air-Lite Barrel Roll, p.144
Fun Frames and Cover, p.34 Mega Weighted Lap Pad, p.60 Therapy Balls, p.52
Cocoon Climbing Swing p.123 Reggie Regulation Ruler, p.79 Heavy Herbert p.153
Mushy Smushy Cushion, p.57 Raindrop Swing, p.122
Set of 4 Gel Floor Tiles, p.39 LED chair, p.37
Cozy Canoe, p.38
   1.800.231.6329 FunandFunction.com
*See safety information on inside back cover for details.