Page 61 - Fun and Function Catalog 2018
P. 61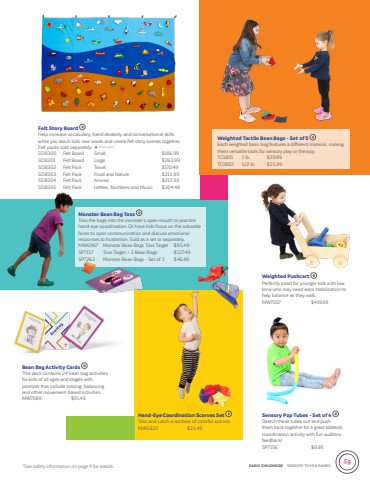 SEATING | LAP PADS 59
   AB
   C
  A Busy FingersTM Fidget Lap Pad
This weighted lap pad helps put the wiggles to rest and keep fidgety fingers engaged! Play hide-and-seek to find the objects hidden in the pellets, fidget with the stretchy coils or push the marble through the maze. Soft cover provides tactile stimulation and zips off for easy cleaning. Weighs 2.5 lbs
to provide calming proprioceptive feedback. 9"W x 11"L. Green, filled with pellets. Coil colors may vary. Machine wash. Age 3+
SP4959 $39.99
B Find MeTM Lap Pad
Need help to reduce fidgeting, improve memory and encourage focus? Our colorful and tactile Lap Pads are perfect for long drives, homework breaks or classwork. Double-sided: Features animals and objects on one side that need to be found in the scene on the other side. Kids love the satisfaction of remembering their targets. Lap Pads keep fingers busy, laps still and eyes at work. Choice of three styles from simple and lighter to more complex and heavier weight. Surface wash. Age 2+.
 Small parts*
      WR4271 WR4272 WR4273
At The Farm - 3 lbs. At The Zoo - 5 lbs. Dino Land - 7.5 lbs.
13"L x 8"W (Ages 2-5)
18"L x 9"W (Ages 5-9)
23"L x 11"W (Ages 10-Adult)
$34.99 $37.99 $38.99
Small-3 lbs.
   C Wipe Clean! Weighted Lap Pads
When it's time to sit still and focus, our Weighted Lap Pad helps put the wigg- gles to rest. The deep pressure soothes and serves as a gentle reminder to stay in place. Place on lap while seated, or across the back when lying down. Withstands frequent use and easy to clean. For extra comfort or tactile stim- ulation, slip on a soft cover (sold separately). Soft vinyl filled with steel shots. Blue. Surface wash. Age 3+
WR4274 WR4275 WR4276
Small - 3 lbs. Medium - 5 lbs. Large - 7.5 lbs.
13"L x 8"W 18"L x 9"W 23"L x 11"W
$31.99 $33.99 $34.99
  1.800.231.6329 FunandFunction.com
*See safety information on inside back cover for details.