Page 81 - Fun and Function Catalog 2018
P. 81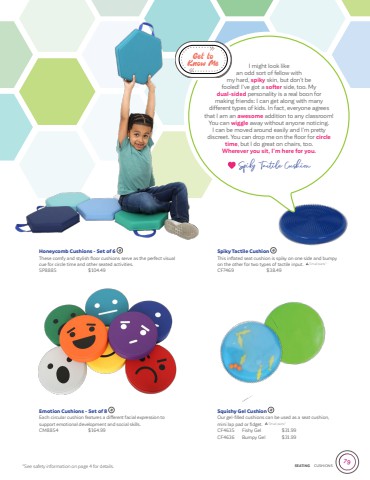 REGULATION | MOOD/EMOTION 79
 G
  E
 F
   E Reggie Regulation Ruler
Reggie helps you rule your emotions! It's a ruler, emotional regulator, activity stimulator and fidget all in one. Encourages self-regulation by raising that big question: How am I feeling? Squish the cool gel inside to find the face that matches your mood, and get ideas for activities that can help. Hyper? Try stretching. Mad? Calm down with music. Sleepy? Do wall push-ups. 12"L x 3"W. Measures inches and centimeters. Clear PVC filled with green gel. Surface wash. Not for mouthing. Age 4+
MS5843 $19.99
F Self Calming Cards
Pick a card, any card, and discover how to soothe your child and yourself in challenging situaa- tions, and recover from emotional upset. The 24 illustrated cards model self-calming strategies with six groups of tools: physical, auditory, visual, creative, self-nurturing and humorous. In addition, 12 activity cards provide games, in English and Spanish, to practice how to get along better, make transitions and more. 3.5"H x 5.5"W. Age 3 - Adult.
GB2157 $12.99
G Calm Down Jar
Feeling overwhelmed, overstimulated or upset? Grab the Calm Down Jar! Shake it or flip it upside down and watch the glitter slowly cascade and swirl through the water. Helps children relax and calm down. Top is securely fastened and won't come off. 2.3 lbs. 7.5"H x 3.25" Diameter. PET plastic container with floating glitter. Green. Surface wash. Age 3+
CF6504 $27.99
New! H Glitter Balls-2 Pack
Bounce, roll and catch! Watch the glitter swirl and the balls light up -- helpful for calming and visual tracking exercises. Toss the balls to practice hand-eye coordination, or play catch with a friend. Smooth surface appeals to tactile defensive kids. Includes 1 gold ball with a fish and 1 green ball. Each weighs 5.5 oz. 2.6" Diameter. Made with TPU. Filled with water. PVC fish. Surface wash. Age 0+
CF7024 $7.99
H
       1.800.231.6329 FunandFunction.com
*See safety information on inside back cover for details.