Page 80 - Fun and Function Catalog 2018
P. 80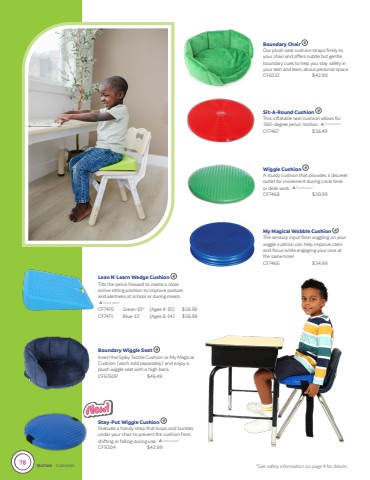 78 REGULATION | MOOD/EMOTION
     A B
C D
    A Social Skills Board Games
Six board games encourage students to work together to improve their social skills. Players discuss solutions to socially challenging situations, encouraging group communication and participation. Each game targets a different issue, such as morals, manners, empathy, friendship, expressing and managing emotions. Features 6 boards (17.25"L x 12"W x 1.5"H), 24 counters, 1 die and 1 spinner. Grades 1-5. Small parts*
PR3060 $35.99
B Shatterproof Handle Mirror
This kid-friendly mirror has rounded corners and easy-to-grasp handles on each side, enabling up-close exploration of facial features and expressions. Helpful tool for speech language therapy and self-regulation. Weighs 1.1 lbs. 13.8" L x 9.1"H. Green and silver. Wipe clean. Age 12 months+
CM6702 $59.99
C Regulation Putty
Practice learning emotions while you pinch, pull and squeeze this putty. Find the nine faces that express happy, mad, confused, excited, scared, stressed, sleepy, alert and embarrassed. Encourages stress reduction, fine motor planning and heavy hand work. Supports speech therapy and self-regulation. 4 oz. Silicone putty with plastic pieces. Green. Medium Resistance. Free of gluten, casein, latex and soy. CPSIA compliant. Not for mouthing. Age 3+
Small parts* MW6552 $14.99
D Cloud Mirror
A new twist on self-reflection. With three mirror circles, kids can engage in facial recognition activities and work on visual perception. Helpful during therapy to practice facial expressions, articulate words and visualize speech. Includes wall mount and screws for installation. Weighs 5.5 lbs. 17.7"H x 20.1"L x 2.4"D. Medium-density fiberboard with acrylic mirror circles. Blue. Surface wash. Age 3+
CM6677 $84.99
         1.800.231.6329
FunandFunction.com
*See safety information on inside back cover for details.