Page 157 - Fun and Function Catalog 2018
P. 157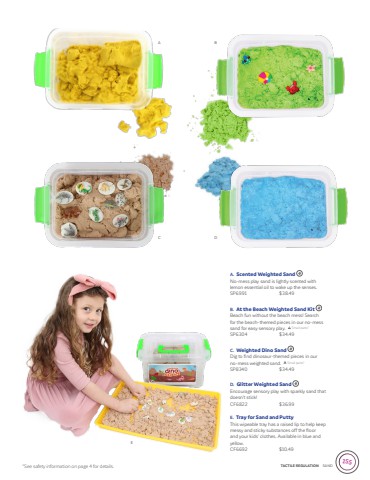 PROPRIOCEPTIVE REGULATION | BLANKETS 155
    CD
  C Calming Weighted Comforter
Help kids adapt during quiet time, focused activities and during sleep. The weight is evenly distributed for pressure throughout the body, providing calming proprioceptive input. Generously sized for full body coverage. Folds easily for use as a lap pad or for travel. Weighs 8 lbs. 42"L x 35"W. Cotton with poly pellets. Machine wash gentle. Age 3+
CF6526 Regular Dark Blue $139.99
CF6797 Twin Light Blue $219.99   New!
New! D Emoji Weighted Blanket
Wrap yourself in emojis! The soothing weight, soft plush material
and playful pattern offer multiple outlets for sensory integration. Talk through your emotions by choosing the emoji face that represents how you feel. 10 lbs. 45"L x 40"W. 100% polyester exterior. Weighted with polypropylene pellets. Black, yellow and orange. Machine wash cold. Age 4+
CF6992 $129.99
      EF
   New! E Designer Weighted Honeycomb Lap
Blanket
Feeling anxious or need help falling asleep? Luxurious weighted blann- ket provides calming deep pressure, while soft fabric with raised bumps offers tactile exploration. Provides grounding effect that promotes relaxation and calm. Weighs 10 lbs. 16"L x 30"W. Polyester. Weighted with polypropylene cotton. Gray. Machine wash cold. Age 4+
CF6962 $199.99
New! F Safe Space Bed
Travel bed for restless sleepers who crave security. Offers a safe
and secure spot to sleep away from home. Quickly inflates and has zippered, netted panels for easy entry and exit on both sides. Includes twin size bed, travel bag, and pump. Use adjustable strapping to attach to any size bed. Weighs 21 lbs. 4 oz. Bed: 75"L x 39"W x 34"H. Bag: 25.5"L x 13"W x 11"H. Pump: 10.5"L x 8"W x 6.2"H. Green and white. Age 18 months+
SP6965 $462.99
     1.800.231.6329 FunandFunction.com
*See safety information on inside back cover for details.