Page 156 - Fun and Function Catalog 2018
P. 156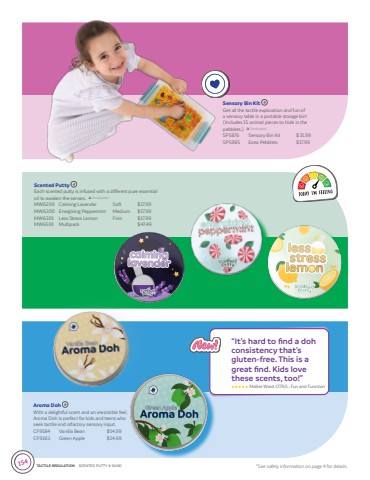 154 PROPRIOCEPTIVE REGULATION | BLANKETS
 A
 New! A Weighted Sea Creature Sleeping Bag
Climb inside the sea creature's mouth and settle down to sleep! Weighted pellets are distributed throughout his body, offering a calming and grounding effect. The proprioceptive input helps kids calm down for more restful sleep. Pack for trips or nights away from home. Weighs 8.4 lbs. 60"L x 33"W. Poly- ester, weighted with polyp pellets and cotton. Blue, yellow and white. Surface wash. Age 4+
CF7023 $139.99
B
New! B Yummy Cuddly Weighted Blanket
It's the trifecta of sensory integration: weighted for calming proprioceptive input, irresistibly soft and a bumpy surface that invites tactile exploration. Offers just the right amount of gentle weight to help kids settle down to nap or chill. 4.5 lbs. 48"L x 40"W. 100% polyester weighted with EVA pellets. Lime green. Machine wash cold. Age 4+
CF6976 $129.99
        BE SAFE
Weighted blankets are not for use with small children. Never place in crib with infant. Never cover a child's face.
1.800.231.6329 FunandFunction.com
*See safety information on inside back cover for details.