Page 83 - Fun and Function Catalog 2018
P. 83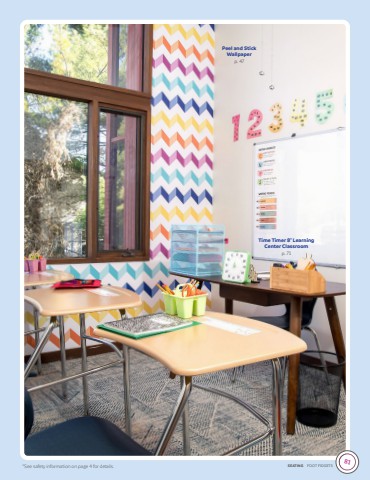 B C
REGULATION | MOOD/EMOTION 81
      D E
     B Happy Pillow
Feeling down and need a pick-me-up? Wanna play? Grab the Happy Pillow to express yourself, hug or fidget. Provides light proprioceptive input. Fidgety fingers will delight in the two colorful coils that spring from the back pocket. 1 lb. 14 oz. 14" Diameter. Polyester filled with plastic pellets. Yellow with black eyes and mouth. Machine wash cover. Surface wash inner pillow. Age 3+ Small parts*
CF6696 $25.99
C Visual Cards for Calming
How do you feel? Discover 25 sensory and motor activities that can help reduce anxiety, anger or frustration. Each card illustrates an activity, such as blowing bubbles, humming a tune, rocking, jumping, writing a story and more. Choose a card and act it out. Then choose another. Activities help children learn how to calm and self-regulate. 2.6 oz. 25 3"L x 5"W cards on ring. Durable card stock. Surface wash. Age 4+
CF6796 $15.99
1.800.231.6329 FunandFunction.com
D
In A Pickle
  In a Pickle prompts kids to self-regulate with specially designed activities developed by Fun and Function's own pediatric therapists. 75 activities encourage alertness, calm and motor skills using balance, heavy work and resistance activities. Each has been carefully tested by our expert team of kids, therapists, teachers, parents and grandparents, to ensure safe play and fun! For solo or group play with sensory seekers, sensory avoiders and senso- ry over responders. Weighs 2.5 lbs. Package is 9"H, 6" Diameter, with 3" x 4" cards. Cardboard. Surface wash. Age 3+
CF6444 $35.99
E Mood Stabilization Kit
Need help with self-regulating? This kit contains tools to help kids get back on track, energized and ready to learn. Includes our Reggie Regulation Ruler to identify and manage emotions, Mushy Smushy Bean Bag for supportive seating, Emotions Putty (Calm) to de-stress and Heavy Herbert, our weighted lap pad companion. Age 3+
CF6015 $155.96 $139.99
*See safety information on inside back cover for details.